With the general awareness that full EV adoption can only happen with an excellent EV charging experience, what will the future be like? Discover how the future of EV charging will evolve with the help of AI and new innovations like wireless charging technology, mobile charging stations, and robots.
Here is how we see it!
EV Charging Today
We can all agree that today's EV Charging experience is far from optimal.
Range anxiety and stress associated with EV charging are real.
The only exception is EV drivers, that charge at home or work most of the time.
However, even they occasionally need to use the public charging infrastructure.
Then, they experience a lack of charging stations, nonoperational stations, or waiting lines.

Overall, the state of EV charging today is not good publicity for the e-mobility revolution.
It's safe to say that it doesn't encourage the average driver to switch to an electric vehicle.
However, we are confident things will improve.
The EV charging experience will be much better in the future, perhaps even better than with today's petrol-powered vehicles.
How EV Charging will be in the Future
If we summarise the future driving experience with an electric vehicle, we can say that charging will be almost non-detectable.
It will be available everywhere and run by intelligent EV charging software that adapts to every situation.
So let's look at what we at Tridens think lies ahead and what will make the future of EV charging!
Smart EV Charging as a Norm
The concept of Smart EV charging will be the norm.
It will prevail regarding energy management, grid overload prevention, and charging cost optimization.
The EV charging ecosystem will run on intelligent solutions ensuring charging is efficient, reliable, and cost-effective.
Plug and Charge and Wireless Authentication
For all future EV charging methods, the vehicle authentication at the stations and who pays for charging must be as simple as possible.
For that, we will use Plug and Charge technology and different forms of wireless authentication.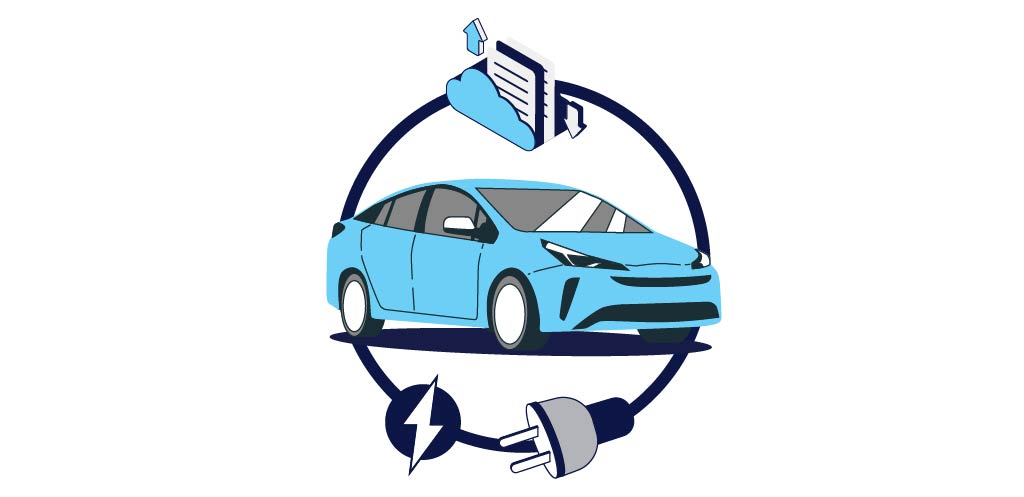 The EV driver will only need to plug the vehicle into the charging station or reach the wireless and autonomous charging area.
Smart EV Charging: Unlocking Its Full Potential
Everything else will be done automatically.
This will make the charging process more seamless and convenient for EV drivers.
AI-backed EV Charging Analytics
As more people switch to EVs, the demand for charging infrastructure will continue to increase.
The EV Charging industry, especially Charge Point operators, will monitor different events at charging stations and collect all user data.
Advanced analytics, backed with Artificial intelligence (AI), will use this data and combine it with other data like, for example, demographics, EV sales data, traffic data, and more.
In the next step, the analysts will identify charging patterns and other aspects of user behavior based on different parameters (geographic areas, time of day, season,…).
This analysis and forecasts will, in detail, predict future demand for EV Charging in different areas.
More importantly, they will enable long-term planning of the expansion of EV charging infrastructure and the power grids that support them.
Building EV Charging Networks with Full Coverage
Based on data-driven forecasts, EV Networks will grow and provide full EV charging coverage.
There will be sufficient charging stations everywhere needed, from densely populated cities to rural and remote areas.
This means that EV drivers can access charging stations wherever they go, ensuring they can travel confidently and overcome EV range anxiety.
In this way, we will get the charging networks optimized for users' needs.
Furthermore, there will be no charging stations with low traffic because of a lousy position.
This means all charging points will be profitable.
EV Charging Networks of the Future
As said, EV charging networks of the future will have full area coverage, but the charging stations and technology will not be the same everywhere.
Of course, the simplest way would be to install fast chargers everywhere, but that is not rational.
Based on user behavior predictions, the future charging networks will have a mix of fast chargers and Level 2 charging stations.
We will find fast chargers at the most frequent points, such as highways, where drivers are more likely to need a quick charge.
This will ensure that EV drivers can make long journeys without long stops for charging.
The slower chargers that take one or more hours to charge an EV will be strategically placed in areas where users spend more time.
Such places will be hotels, restaurants, shopping malls or public garages, parking places, and along streets in urban areas.
The EV charging networks of the future will be a mix of different charging stations and technology.
Other alternatives like mobile charging units, charging robots, and wireless charging will be included depending on circumstances and scenarios.
Charging networks for EV Fleets
Let's not forget commercial vehicles!
As more businesses switch to EV fleets, the demand for charging infrastructure will increase exponentially.
However, the demands of EV charging for commercial vehicles will differ from personal vehicles.
Therefore, in most cases, they will charge separately.
To meet the future needs of commercial EV fleet management, charging infrastructure will be at commercial locations such as warehouses, distribution centers, and depots.
E-roaming is Simple and Cheap
In the future, E-roaming will become simple and cheap like mobile phone roaming is today in areas like for example, the European Union.
EV drivers will use charging stations from different providers, regardless of their location or membership status.
This will make EV travel more accessible and convenient than ever before.
Help for EV Drivers who are not Homeowners
One area that will see a drastic improvement in the future is the challenge of charging overnight if you can't have a private charging station.
EV drivers who are not homeowners can't have a private charging station. For them, there will be different solutions.
Home charging will still be the number one charging method for homeowners.
Nonetheless, we will see more shared charging stations in the future.
It's an EV charging business model where a homeowner rents his private charging station to others.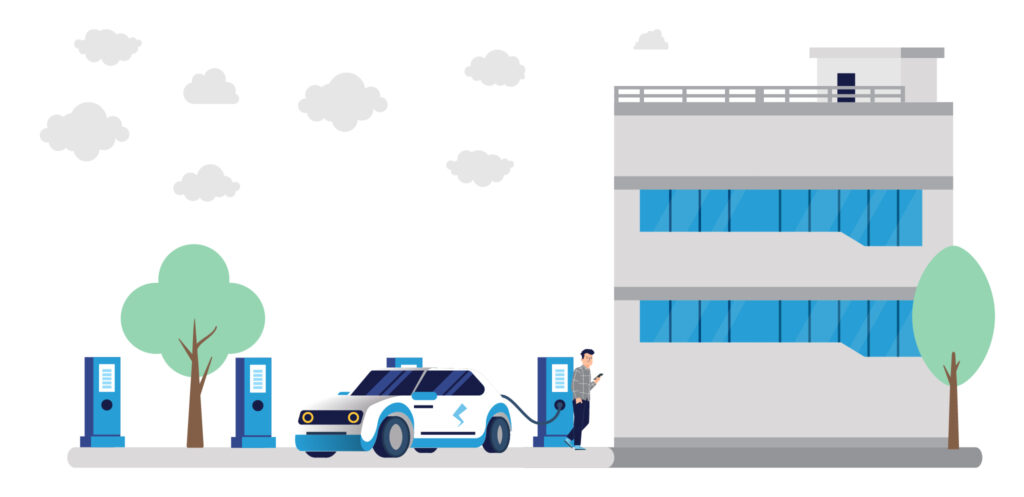 Of course, there will also be more public or semi-public charging stations in apartment complexes, public parking lots, and curbside charging stations.
Various charging solutions will be used for residential charging, from fixed to mobile and robotized charging units.
Mobile EV Charging Units
When we mention mobile charging units, we don't mean commercial vehicles that Auto Clubs like AAA use to charge electric vehicles stranded beside the road.
In the future, mobile EV charging units placed inside vans or trucks will permanently support fixed charging networks in different situations.
Let's look at an example of such a challenge mobile units can solve.
In a tourist area, the demand for EV charging is very seasonal.
Therefore, building an infrastructure that can handle peak demand doesn't make sense.
As a result, the existing charging infrastructure will handle only the low-season demand from permanent residents.
However, in the peak season, mobile charging units will help to meet the temporary high demand.
EV Charging Robots
Another mobile EV Charging unit is charging robots placed where fixed stations aren't practical.
Let's look at the challenge owners of public garages, shopping malls, parking places, or multiapartment buildings must solve.
When everybody drives an EV, the demand for chargers in front of the shopping mall or multiapartment buildings will be immense.
The EV itself is charged relatively quickly.
However, no one wants to get up in the middle of the night or stop lunch to re-park his vehicle and free up the charging station for others.
In theory, you would need a charging station for every parking space.
A mobile robot can solve this problem.
After charging one vehicle, he can move on to charge another one.
So in many cases, a few charging robots can do the job that would typically require the installation of many classic charging stations.
Let's be honest; charging stations are not the prettiest, especially if installed in old city centers or picturesque locations.
But we will need them almost everywhere in the future, so imagine what scenery that will make.
Therefore, urban EV charging trends will dictate that public EV chargers are hidden and blend in with the surroundings, ensuring they do not detract from the area's aesthetic.
So a new type of EV charger will emerge with a hidden unit somewhere in the building or underneath the street with only a discrete visible cable, for example, from the lamppost.
Wireless EV Charging
Wireless EV charging is another exciting technology that will play a significant role in the future of EV charging.
Also known as inductive charging, wireless charging uses an electromagnetic field to transfer energy between a charging pad and an EV's battery, eliminating the need for a physical connection between the two.
Wireless charging is discrete and practical.
It will likely prevail in urban areas with limited parking spaces and anywhere a typical charging point would be too visible.
Autonomous EV Charging
Autonomous EV charging is based on wireless EV Charging technology.
However, it's not the same.
Wireless charging uses charging pads placed inside the road or at the roadside, and the car needs to stop to charge.
On the other hand, autonomous charging will happen on roads equipped with wireless charging technology so that you will charge while driving.
For now, it's an expensive technology but something that we will see as a way of EV charging in the future.
Solar Charging
Solar charging, as the name suggests, is done with solar panels on the car.
It's a green solution that doesn't need any infrastructure.
In theory, it's and perfect answer to all EV charging challenges.
However, solar technology will still need to come a long way before it can seriously help charge an electric vehicle.
The Electric Cars of the Future
The abundance of charging options will also influence future electric cars; the most noticeable change will be the battery size.
The average daily driving distance in the US and Europe today is between 50 and 70 kilometers (30-45 miles).
Combine that with limitless charging possibilities, and there is no need for an EV with 300+ kilometers (200+ miles) range.
So the batteries will be smaller, and the EVs will be lighter and cheaper.
Yes, but what about those long trips?
Most of us make long trips only a few times a year.
Even then, fast chargers will be capable of charging your car in under 30 minutes.
But even better, there will be modern charging facilities along the way.
They will provide all the relaxation, food, drinks, and entertainment to pass the time while waiting.
The EV Charging of the Future as a Stress-less Experience
Cars are parked most of the time, and in the future, this time will be effectively used for charging.
The future of EV Charging will be automated and simplified.
It will provide an excellent user experience where drivers won't have to worry or think about charging for even a second.
Wherever you stop, you recharge, whether by plugging into a station, using wireless charging, or calling a charging robot.
Or you will step out and run your errands, and the car will self-drive to the nearest charging point.
In the future, EV Charging will become something users won't think twice about.
They will just enjoy driving their electric cars.
Ready to get started?
Learn how your business can thrive with Tridens EV Charge.
Schedule a Demo