Some trends come and go, but at least how it looks now, the EV Charging industry is going nowhere!
The future of mobility will be electric, but there is no electric vehicle revolution without EV charging.
So what are the top EV charging industry trends that will influence charging stations and infrastructure and, with it, the whole fate of electric vehicles?
If you are interested in the EV Charging industry trends connected to technology, read from the beginning.
If you want to know more about the business side, jump to trend 5 and make sure you check trend 7 for an EV Charging industry secret!
EV Charging Industry Trends for the Years to Come
For now, electric car sales are skyrocketing, with e-mobility being a hot trend, but will the EV charging industry and the necessary infrastructure follow?
Because let's face it, there is no future for electric vehicles without EV charging!
Read our blog, The Future of EV Charging, to see what lies ahead if all goes right.
While new trends in electric vehicles or e-mobility make headlines, there are just a few public discussions about the purely technical and marketing aspects the EV charging industry is facing.
Here are the top 10 EV charging industry trends that will define 2023 and what lies ahead for electric vehicles.
EV Charging Trend 1: Smart EV Charge
The basic idea behind Smart EV Charging is that the users and charging providers can adjust the charging output, timing, and duration of EV charging.
This is made possible by sharing information between electric vehicles, charging stations, charging service providers, and electricity providers.
When talking about smart charging, the technology can be divided into two charging management systems.
The first system is User-managed charging (UMC).
Here the user controls and decides (via the smart EV Charging app) the charging parameters.
This enables the user to select the charging times that best suit him or at the lowest prices.
The second management option is Supplier-managed charging (SMC).
Here charging providers adjust the charging parameters according to different situations. For instance, they can restrict charging to help with grid balancing or prevent the local power network overloading.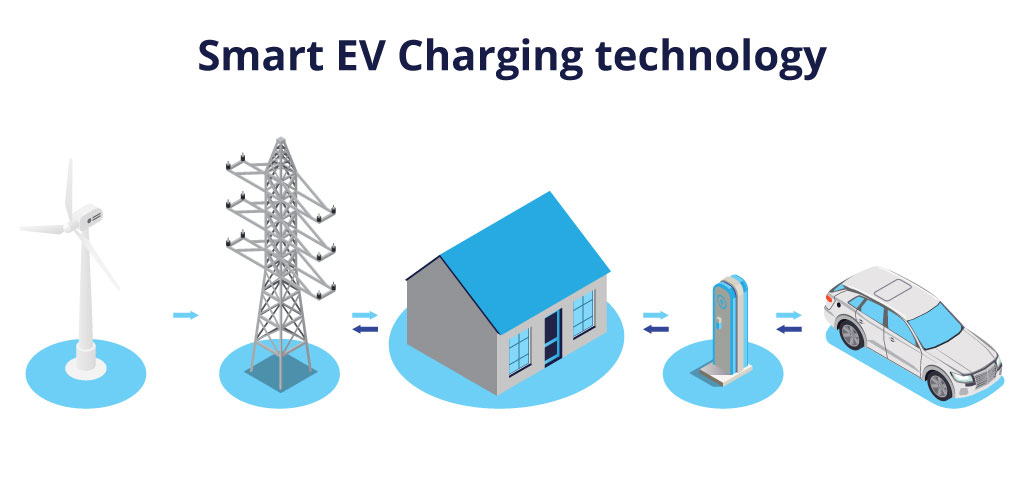 A smart EV Charging software will make decisions according to real-time energy production, local energy consumption, and electrical infrastructure capabilities.
This monitoring aims to optimize energy consumption and flatten electricity usage in peak hours using dynamic EV Charging load management.
Shifting the vehicle charging away from the peak is essential in preventing grid overload and enabling electricity use by other users (industry, homes, etc.).
In many countries worldwide, we can already see the legislation being confirmed or in preparation that all EV charging stations will need smart charging functions.
The Shift to Renewable Energy
Also, with the rise of environmental, renewable energy, a new problem has arrived.
Energy from renewable sources like water, solar, and wind is highly volatile since it depends mainly on the weather.
For electricity producers and infrastructure, it is crucial that EV charging responds in real-time to increased or lowered electricity supply.
EV charging has an excellent opportunity to help manage the electricity supply and demand changes.
Smart EV Charging: Unlocking Its Full Potential
But to achieve this, the EV charging systems must be equipped with cloud-based Smart EV Charging Management Software.
Rewards instead of Restrictions
With Supplier-managed charging (SMC), grid balancing can be achieved easily with charging restrictions in peak times.
However, one-sided restrictions would not provide a good user experience for EV owners.
That is why an excellent Smart EV Charging Management Software must be able to provide users with rewards if they decide to charge during off-peak hours.
This is possible with inbuilt monetization and EV Charging and Billing software.
The users can choose when to charge and how fast they want to charge. They can also select different charging and subscription plans (basic, VIP,…) and save money on charging.
This flexibility in pricing and optimization of charging costs will become essential for everyone involved in the EV Charging industry as we move from day/night pricing to real-time smart charging according to the electricity supply and location of charging.
EV Charging Trend 2: Plug & Charge with ISO 15118
What is Plug and Charge, and why do all survey shows users want it?
While not many EV users can specify it, they all agree – it's what Tesla has!
You park your car, connect it to the charging station, charge the battery, and get the bill. And on top of it, everything runs flawlessly.
No different apps for different networks, no credit cards or anything else.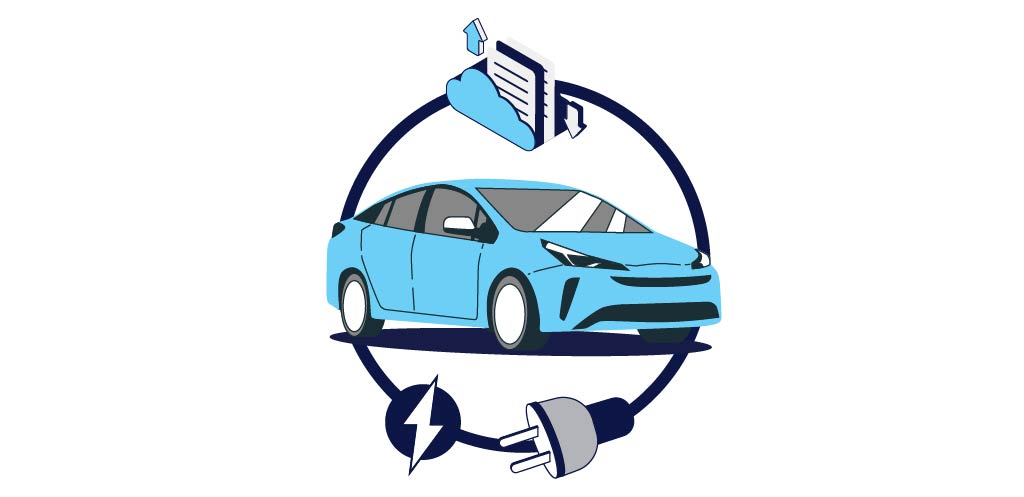 Plug and Charge represent the best possible user experience with EV charging, and no wonder everyone wants it.
After all, everyone knows someone with a Tesla, and it looks so simple.
Tesla uses its own principle, but the effect is the same in the end – it's Plug and Charge!
If we look at Tesla sales statistics, they prove they are on the right track.
Nowadays, "non-Tesla" charging stations require the user to identify himself before charging the vehicle.
Verification takes place with an application, a credit card, an RDIF card, a phone call, or an SMS.
This largely depends on the Charge point operator or the management system.
Nonetheless, the charging can begin only after verification to ensure the person will also pay the bill.
What makes Plug and Charge possible?
It's the ISO 15118 standard that specifies the communication between Electric Vehicles (EV) and charging stations, or the Electric Vehicle Supply Equipment (EVSE) as we officially call them.
iSO 15118 standard and Tridens Plug and Charge software enable simplified authorization so that the car and charging stations can communicate without the user.
Like Tesla!
How does this Work in Real-life Scenarios?
Before the first charging, the user must set up a profile in the Tridens EV charge application and connect it to the specific car.
From then on, if he wants to charge his EV, he plugs it into the charging station.
The charger will recognize the car, charge it, and automatically bill it to the user's account.
Of course, the user can monitor everything through the Tridens EV Charge application.
He can set up charge volume, desired driving range (mi or km), or another specific battery threshold.
How far is the General Development of Plug and Charge?
The Plug and Charge software is already available, so we hope this trend really kicks off in 2023.
The main obstacle, for now, is the limited number of car manufacturers and charging stations supporting the Plug and Charge function.
Only Tesla uses this function by default, but it's limited to Tesla's charging points and cars.
With Tesla opening its charging stations to other brands and its drivers charging on other charge points that don't support Tesla's Plug and Charge, we hope this will be the number one trend of 2023 in e-mobility.
Only a few other EV brands today have the Plug and Charge function enabled from the start.
Others can support Plug and Charge with some hardware upgrades.
In 2023, we expect that at least Mercedes, Porsche, Hyundai, and Volkswagen will be "Plug and Charge ready" from "the showroom."
Governments worldwide are preparing legislation on what functions EV charging stations will need to include.
However, Plug and Charge is currently not one of them.
To truly implement the Plug and Charge function, we need cooperation between all parties in the EV Charging industry.
Especially between Charge Point Operators (CPO), Electro Mobility Service Providers, and Original Equipment Manufacturers (OEM) or, in this case, the producers of charging stations and car manufacturers.
EV Charging Trend 3: Move to OCPP 2.0.1
The Open Charge Point Protocol (OCPP) was developed in 2009.
It is a communication protocol between an EV Charging station and a central Back Office system – the EV charging platform.
It is an open standard used internationally without charge and license requirements.
OCPP protocol is supported by the most influential EV industry companies, such as utilities, Charging Station manufacturers, Charge Point Operators (CPOs), and back-office software suppliers.
The OCPP standard enables operators and vendors of charging infrastructure to select and supply charging stations to their selected CPOs.
OCPP also allows technological companies like Tridens to develop software solutions around the protocol.
OCPP 2.0.1. vs. OCPP 1.6
For now, the previous version of the open protocol OCPP 1.6 is still the most commonly used in the EV charging industry.
While OCPP 2.0 and the latest version, OCPP 2.0.1, are already used by software development companies, some hardware providers are still somewhat behind.
The most significant improvements of OCPP 2.0.1. compared to versions 2.0 and 1.6 are (source: Open Charge Alliance):
Device Management
Added features to get and set configurations and monitor a Charging Station.
This was a long-awaited feature, especially welcomed by Charging Station Operators who manage complex multi-vendor (DC fast) charging stations. 
Improved Transaction handling
It was added to help Charging Station Operators manage large numbers of charging stations and perform high-volume transactions.
Added Security
The new protocol version includes secure firmware updates, security logging, event notification, and security profiles for authentication (key management for client-side certificates) and secure communication (TLS). 
Added Smart Charging functionalities
For topologies with an Energy Management System (EMS), a local controller, and integrated smart charging of the EV, charging station, and Charging Station Management System. 
Support for ISO 15118
The support for ISO 15118 standard was added because of Plug and Charge and smart charging requirements. 
Display and messaging support
To provide the EV driver with information regarding rates and tariffs on the display. 
The move to OCPP 2.0.1. must happen soon
The implementation of OCPP 2.0.1. in the year 2022 is of significant importance, especially regarding the Plug & Charge function, which is not possible on version 1.6.
Although Tesla already has their own version of the Plug & Charge function, it doesn't feature the OCPP protocol.
Because Plug and Charge will become a "must-have" feature, the hardware producers (and Tesla) must step up and move as soon as possible to OCPP 2.0.1 protocol.
All the major EV charging software developers already did it, and Tridens is no exception since it's already OCPP 2.01 certified.
EV Charging Trend 4: Vehicle-To-Grid (V2G) Technology
Often in connection with Smart charging, you will hear the term V2G (Vehicle to Grid) technology or even V2X (vehicle to everything), V2H (vehicle to home), vehicle to load (V2L), and V2B (vehicle to building).
Because electric cars are basically mobile electricity storage units, the idea is to use the stored energy and return it to the grid when necessary.
In theory, that would mean you charge your car when the rates are low, for instance, at night.
After that, you return the power to the grid with discharge when electricity demand is high and prices are higher.
You could charge your car overnight and plug it into the charging station at work the next day.
If you allow the station to use the battery as a source of electricity when needed, you could earn money.
Of course, the system would watch that you still have enough power for your daily drive.
By doing that, the EV charging industry would help flatten the electricity usage curves and earn the owner of the EV extra money in price difference.
V2G user concerns
The V2G technology is interesting in theory, but some significant concerns make us believe most EV drivers will not accept it soon.
The primary user concern is that frequent charging and discharging will shorten the lifecycle of the car's battery.
Degrading the car's battery is something no EV owner wants. Although some studies suggest this is false, users will probably be hard to persuade.
The other fear EV users frequently address with V2G technology is that it is hard to foresee future trips.
User behavior studies show most EV owners prefer their cars to be at full charge whenever possible.
While it is possible to adjust the battery not to discharge under, let's say, 70% or 80%, it is still questionable if users will embrace V2G technology.
Probably the only chance to do so is if they can make some solid profit with it.
These user-based concerns and the fact that you also need cars and charging stations to support V2G technology make us believe V2G will not be widely accepted, at least not soon.
We think the only use case for V2G technology in the near future could be in EV Fleet management.
EV Charging Trend 5: New Business Models & Charging as a Service
In our blog, we have already taken an in-depth look at new EV charging business models so let us sum it up.
So far, only a few charging stations are making a profit.
Therefore investing in EV charging industry is not something most investors would find attractive.
But a few who know better are already massively investing in EV charging, and they know why.
First, some already have the land and infrastructure, like Oil & Gas companies.
Electric vehicles directly influence their primary business. Therefore they have no other choice but to invest in EV Charging.
They will survive the coming zero-carbon era only if they build enough EV charging stations.
EV Charging as a Marketing Tool
The second one is the "indirect revenue seekers (IRSee)."
These businesses see EV charging as a way to attract more customers or offer them a better user experience.
At least for now, the EV drivers primarily represent the higher income class.
Logically, a hotel will want to build EV chargers to have a competitive advantage over its neighbor without them.
If an average EV charging time is 1 to 3 hours, supermarkets and shopping malls will build you a charger just to get you inside while charging.
The same goes for restaurants and other businesses where you wait for your car to charge and spend some money while you wait.
All these EV charging business models want to attract EV drivers and give them various discounts and loyalty points for charging as long as they spend in their businesses.
Because these businesses, in reality, don't want to invest in EV charging and equipment, they will increasingly look into Charging as a Service (CaaS) solutions.
What is Charging as a Service (CaaS)?
Charging as a Service is a solution where specialized companies invest, build, and take over all EV charging aspects without you having to worry about it.
It all depends on the contract, but it's a perfect solution for businesses that want EV charging but want to avoid investing in it or handle everyday operations.
EV Charging Trend 6: eRoaming is a must-have
If a user selects a specific Electro service mobility provider, he wants to charge at as many possible "home" charging stations.
EMSPs can extend their network by applying eRoaming.
The concept is simple and similar to telecom providers, enabling users to use "guest" networks.
EV Charging roaming enables charging at any charging station as long it's in the roaming network.
That means better user charges, charging with the same app as "at home," and in the future, also the Plug and Charge function.
Especially in areas like Europe, with many national EV Charging providers, eRoaming is crucial for providing a good charging user experience.
We certainly hope that, like in telecommunications, the costs of eRoaming in the EU will reduce significantly.
For more information on how eRoaming works, please read our blog "What is EV Charging Roaming?"
EV Charging Trend 7: Branding, Mergers and Takeovers
All experts agree that in the EV charging industry, one of the biggest trends will be mergers and takeovers.
The romantic days of the first innovators are coming to an end as more and more "big boys" will want their share of the "EV Charging industry pie."
First, bigger EV Charging companies will merge or take over other CPOs and EMSPs, and even software companies that develop EV Charging software.
Their aim will be to expand as much as possible and establish their EV Charging networks beyond local markets.
Secondly, a lot of big players will enter the EV Charging industry.
Here we are talking about car manufacturers, Energy and Utility providers, and of course, Oil and Gas giants.
Some, Like Porsche, are on one side making partnerships with EV Charging providers and simultaneously planning their own branded networks.
However, some big companies don't want to start from scratch when it's easier for them to buy already existing charging networks and speed up the process, like in the case of Shell's acquisition of Volta.
Users want reliability and a home network as big as possible.
With roaming and merging, you can have a large network, but the decisive advantage will be the brand.
Users trust a brand, so they are much more likely to go charging at a station of a well-known brand.
Also, we strongly believe that a well-known brand with no association with electric cars or charging could mix up the market just by appearing at it.
Just for fun, let's say Nike enters the EV Charging industry!
We are pretty sure charging stations branded with the Nike logo would immediately receive more trust and attention than other less-known brands, even if they are in this business for a longer time.
Let's see if something like this also happens!
No matter how it goes, in the end, only the big ones will remain.
White-label Charging Software is an Industry Secret
The trust of users that comes with having an established brand is one of car manufacturers' big advantages.
They can brand a charging network or at least "suggest" one for their users.
But in reality, they are not operating the charging networks in most cases. They are just applying their brand name to it.
Wanna know an industry secret?
There are only a few top-level EV Charging Software solutions, so most networks run on software provided by only a few EV Charging Software companies.
Most of them offer white-label software, which essentially means you can buy fully functional EV Charging software, apply your logo, and it's operational the next day.
You may already be charging with Tridens EV Charge software and don't even know!
EV Charging Trend 8: EV Charging Billing System
EV Charging used to be simple.
A driver would plug in the car, input the payment method, charge and receive a bill for the energy used.
Maybe today, the most straightforward solution is to offer EV charging for free, but in the long run, the "free-for-all" charging model will not be sustainable.
With the many new EV charging business models based on charging, it's no longer simple.
If you want to know more about this topic, read our blog on EV Charging Billing.
But let's focus on 2023 trends and the new complex billing problems.
Because let's face it, someone has to pay for the rising EV charging costs.
For example, a shopping mall can now provide free EV charging, but as the charging number increase, they will want to shift part of the costs to the stores inside.
The Complexity of EV Billing in Praxis
Let's look at how EV Billing can quickly become very complex!
A restaurant is offering EV charging to attract more customers.
They offer three tiers:
If you spend over 20 USD in the restaurant, you get a 20% discount on charging.
If you spend over 50 USD in the restaurant, you get a 50% discount on charging.
If you spend over 100 USD in the restaurant, your charging is free.
For a restaurant to be able to bill the customer, they need real-time data on how much the customer spent on EV charging and combine it with the restaurant bill.
It gets even more complicated if they don't operate that charging station.
In that case, the EMSP will bill them for charging, but they need to know now how much.
It gets even more complex if they offer other discounts or loyalty points for food or EV charging.
That is why we believe EV billing will be a trend in 2023 when electric vehicle charging providers start to think about how the EV charging industry will transform in the next years.
Soon the current EV Charging platforms will be unable to support the complex billing businesses will demand!
Therefore they will start looking for scalable EV billing systems that will enable them to grow for many years.
We can already predict an EV charging trend for 2024 – it's dynamic pricing that will make 99% of all current EV billing systems obsolete.
The last two trends are not really trends but answers to the most common problems users have and the ones creating a bad user experience.
EV Charging Trend 9: Keeping The Charging Stations Free
For an EV driver, it's not always easy to find a free EV charger.
With growing numbers of electric cars, the problem is getting bigger.
If in the past, the main problem was regular cars (ICE) blocking the parking spot in front of chargers.
However, the growing problem is that EV users don't move their vehicles once they start charging.

The driver applications show the charger is free, but the parking space is actually occupied by an ICE vehicle or an EV car that is not charging anymore.
That creates a problem for EV drivers who cannot charge their cars. Also, if drivers can't charge, providers lose revenue.
So the challenge for providers has now become how to let the users know if a charger is actually available and how to deal with customers that remain parked after charging.
The EV industry is addressing this problem in two ways.
Charging Stations with Parking Sensors
Some new charging stations have parking sensors that detect if a parked vehicle is blocking the station.
They will notify the driver app and mark the station as occupied if it happens.
It will not solve the problem, but at least it will be less frustrating than arriving at a "free" charging point and seeing it blocked by a parked car.
Charging for Overstay
Dealing with ICE vehicles blocking the charge points remains a challenge.
However, at least for electric vehicles, the EMSPs have a solution.
After an EV completes charging, the owner gets a push notification through the app.
In the message, he also gets notified how much time he has to remove the vehicle, or the CPO will start to charge him an additional fee for every minute over that time.
It's not a new or optimal solution, but we will surely see it used more and more in 2023.
EV Charging Trend 10: The Maintenance
Our last "trend" is, in reality, not a trend.
It's a warning of what we will also face in 2023, and that is the increasing number of poorly maintained and not working charging stations.
With new stations rapidly building, the question is, who will maintain them?
Many charging stations are built in different sorts of EU and government programs or by local communities or startups.
Because most current EV charging business models for EV charging currently don't make a profit (see our blog), it is a question of who will finance the maintenance and repairs to keep them operational.
As we can see from user reports, many charging stations are already neglected or out of operation.
This causes frustrations for EV drivers and is not a good way to promote electric vehicles and e-mobility.
We hope you find our EV Charging industry insides and trends interesting!
Ready to get started?
Learn how your business can thrive with Tridens EV Charge.
Schedule a Demo