Tesla holds the top spot among EV charging companies with the largest market share. Right behind Tesla is ChargePoint, with the largest network of EV charging stations. -31 May 2023
In 2022, 14.2% of all cars sold worldwide were electric, representing a staggering 10.5 million vehicles.
Tesla holds the position as the leading seller of electric vehicles. The company reported sales of 1,313,581 its models in 2022.
ChargePoint boasts the most extensive charging network worldwide.
Currently, there are 2.7 million public places to charge your car.
EV charging companies are working hard to keep up – being in an EV charging business is a big deal.
Who Is The #1 EV Charging Company?
Tesla isn't only the top EV manufacturer but also leading the charge on EV infrastructure.
With over 45,000 Superchargers worldwide, Tesla owns and operates the largest global, fast-charging network.
Tesla has also set up 40,000 Wall Connectors at Destination Charging locations – these are located in spots people frequent, both in busy cities and peaceful rural areas.
Check out how Tesla's Destination Charging and its feature-packed app can be seamlessly integrated into our daily lives:
Who Are The Top 10 EV Charging Companies
We've gathered a selection of the top 10 EV charging companies, all of which stand out as some of the biggest EV charging companies.
Rather than sorting them by size or market share, we've decided to categorize them based on their recognition and reputation among the general public.
Tesla: Leading The Charge With Superchargers
Founded in 2003 and now headquartered in Austin, Texas, Tesla has pioneered a revolution in the electric vehicle industry.
With more than 45,000 Superchargers on all major routes globally, Tesla has made its mark in the EV charging landscape.
The company's annual revenue reached 81.462 billion USD in 2022, demonstrating its market leadership and far-reaching impact.
Tesla's unique selling point lies in its luxury electric vehicles and the Supercharger network, renowned for its fast charging speeds and strategically located stations, significantly enhancing Tesla ownership's convenience.
Highlights:
Tesla is the first US automaker to establish electric vehicle production in China.
Tesla vehicles can be charged in just 15 minutes.
Tesla's charismatic CEO, Elon Musk, continues to guide the auto industry into the electric age with his innovative vision and dynamic leadership.
ChargePoint: Revolutionizing The EV Charging Landscape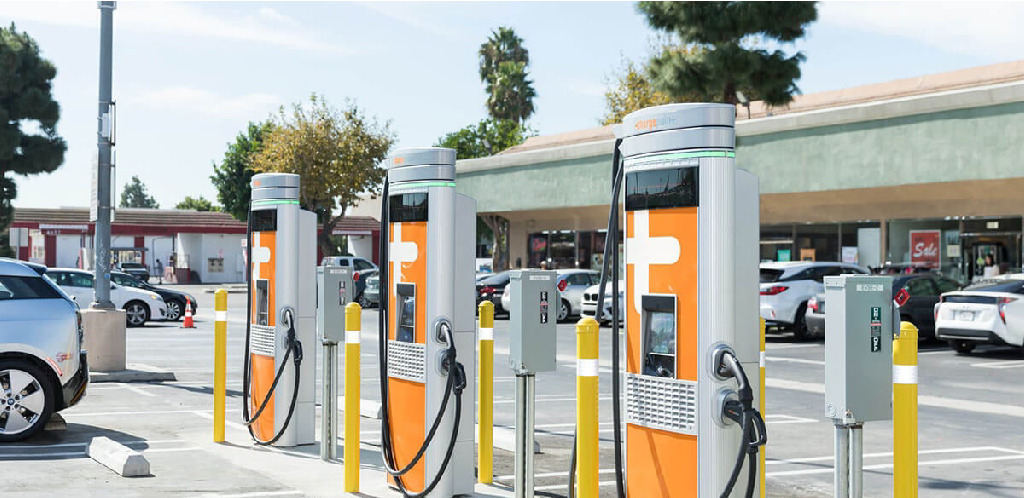 Established in 2007 in Campbell, California, ChargePoint has become a significant figure in the EV charging space, boasting the largest network with over 115,000 charging stations.
Its influence is reflected in its impressive 153 million USD in Q1 2023, driven by a dedicated workforce of 11,446 employees.
ChargePoint's network has facilitated over 5 billion electric miles, 158 million charges, and saved over 200 million gallons of gas.
Smart EV Charging: Unlocking Its Full Potential
Highlights:
With one ChargePoint account, drivers can access any North American and Europe charging station.
In January, ChargePoint announced a deal with Lexus to provide all-electric RZ 450e crossover drivers access to their advanced home and public charging solutions.
ChargePoint has struck a deal with Fisker to provide a seamless charging experience for Fisker Ocean drivers in North America.
ChargePoint enhances Mercedes-Benz driver experience in North America with its fast, flexible Express Plus charging platform.
ABB: Charging Infrastructure For Any Kind Of EV
ABB, a Swiss-Swedish multinational based in Zurich, started 2023 strong, reporting Q1 revenues of 7,859 million USD, an increase from 6,965 million USD in Q1 2022. With over 51,130 dedicated employees worldwide, ABB is firmly on a growth trajectory.
Recognized as a titan in power generation equipment and industrial robotics, ABB is extending its innovative reach into the EV charging market.
ABB is gaining prominence in the EV charging stations sector by offering a suite of fast-charging solutions for buses and cars. Its recent partnership with Porsche to develop advanced EV chargers indicates a promising future for the company in this expanding field.
Highlights:
Siemens: Shaping A Sustainable Future With Smart Charging
As one of Europe's largest engineering companies, Siemens brings a comprehensive portfolio of end-to-end solutions to the mobility landscape.
Having installed more than 300.000 public chargers across Europe. This way, Siemens has established a significant presence in this emerging market.
The company stands out in providing efficient, resilient, and sustainable solutions for the reliable power supply of buildings, industry, and infrastructure through Smart EV Charging.
Highlights:
For several years, Siemens has offered free charging to its employees' electric vehicles at its charging stations.
Siemens recently launched one of the most efficient DC chargers, the Sicharge D, boasting a voltage range of up to 1,000 V and a scalable charging power of up to 300 kW.
Siemens technology will help Regensburg, Germany advance sustainable public transportation.
Schneider Electric: Empowering EV Drivers
A French multinational, Schneider Electric, went all-in into the EV charging market. Known for data center solutions, Schneider Electric now offers EV charging solutions for residential, commercial buildings, and fleet use.
With strong revenue growth and expanding EV solutions, Schneider is a key player in electric mobility's future. With 135,000+ global employees, Schneider reported strong Q1 2023 growth, with revenues reaching €8.5 billion, a 16% rise.
Highlights:
EVgo: Enabling Seamless Charging Infrastructure
EVgo, founded in 2010 and headquartered in Los Angeles, has quickly emerged as a leader in the electric vehicle industry. This pioneering EV company is at the forefront of driving mass adoption of electric vehicles and is known for its fast charging solutions.
EVgo operates with more than 900 locations in 66 metropolitan areas in the US.
For Q1 2023, EVgo reported impressive financial results, with a revenue increase of 229% compared to Q1 2022.
Highlights:
Over 140 million people in the US, including 80% of Californians, live within a 10-mile radius of an EVgo fast charger.
EVgo has formed partnerships with nine OEMs and has around 614,000 customer accounts.
EVgo recently launched a new mobile app for personalized, top-notch EV charging services.
The company has extended its agreement with General Motors to add 3,250 charging stalls nationwide by 2025.
By 2030, EVgo plans to invest over 1.2 trillion USD in EV development and deployment, reinforcing its role as a key player in the e-mobility sector.
Blink Charging: Building Global EV Networks
Launched in 2009 in Miami Beach, Florida, Blink Charging has become a pivotal player in the international EV charging market.
Blink Charging designs and manufactures EV charging stations and owns and operates them, pioneering the deployment of EV charging infrastructure.
This e-mobility service provider operates over 23,000 charging stations, serving over 180,000 registered members globally.
Blink Charging has focused solely on building the EV infrastructure to make EV charging universally accessible. It reported revenues of 51.9 million USD, having installed around 15,000 charging stations in the United States.
Highlights:
Efacec: Delivering High-Powered Charging Hardware
With a prestigious history spanning 70 years, Efacec is Portugal's leading energy, engineering, and mobility enterprise.
According to its 2022 annual report, Efacec earned 160.1 million EUR in revenues, with 38% coming from Portugal and 62% from its international operations. The report also stated that the company employs 1,928 people.
Efacec's expertise covers a broad spectrum of EV charging needs, catering to private and public users alike with an array of charging options from "quick charging" to "ultra-fast charging." Furthermore, Efacec specializes in public sector installations.
Highlights:
EVBox: Advancing Smart Charging Solutions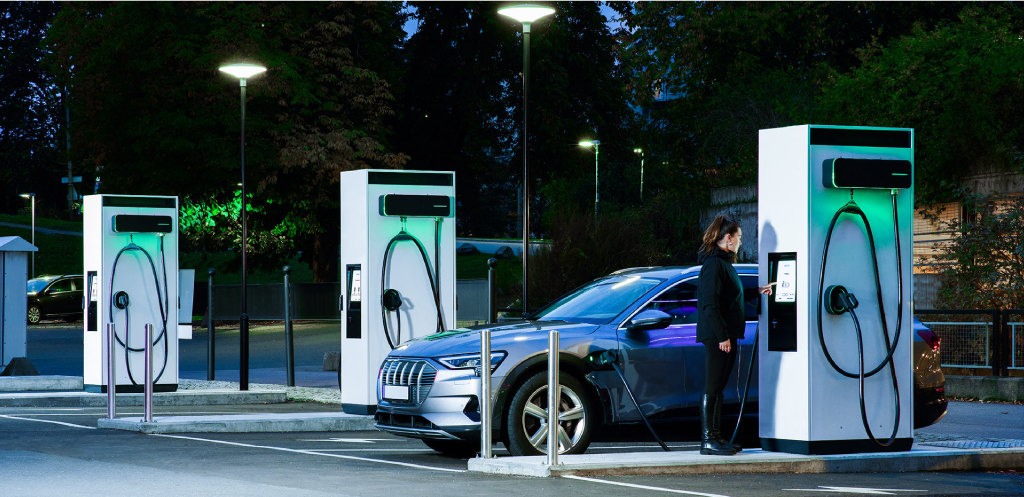 With its roots dating back to 2010, EVBox has established itself as a global groundbreaker in the EV charging industry. Based on its 13 years of extensive industry experience, EVBox powers 70 countries and boasts more than 500,000 charging ports installed worldwide. The company's dedicated workforce of +700 employees worldwide focuses on designing flexible, modular EV charging solutions.
Their primary focus is on helping businesses start and expand their charging offerings. The software that powers EVBox's charging stations supports smart charging features, optimizing energy usage and saving on costs.
Highlights:
EVBox recently introduced its high-capacity EVBox Troniq Modular fast charging station to the North American market.
In 2023, EVBox unveiled a vibrant rebranding, signifying a new chapter in its journey toward electric mobility.
Eaton: Powering EV Charging Solutions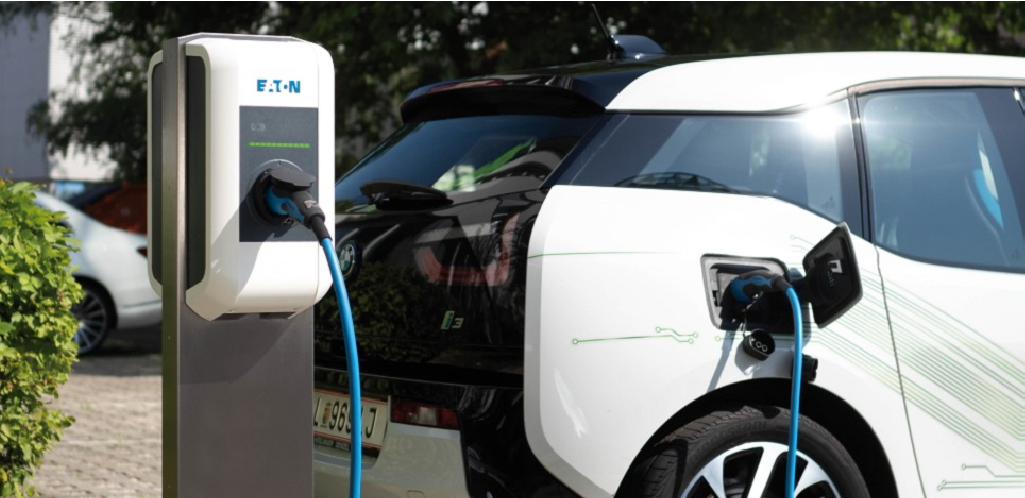 Eaton is a respected name in the power management sector, recognized for its robust offerings in multiple domains – they are developing efficient, sustainable power management solutions.
In 2022, Eaton hit a record with its 6% sales growth, reaching 20.8 billion USD. Eaton shows its commitment to progress and change through its range of different products.
Highlights:
Boosting Your EV Charging Journey
At Tridens, we're not just passionate about EV charging – we're driven to make it effortless. By partnering with these top-tier EV charging companies, we can support and enhance their hardware with our Smart EV charging software platform. We're 100% dedicated to ensuring you and your customers have the best charging experience possible!
Ready to get started?
Learn how your business can thrive with Tridens EV Charge.
Schedule a Demo