EV Charging as a Service (CaaS) is a product that offers a risk-free way to get an electric vehicle (EV) charging station installed and managed without any investments.
Companies can use EV Charging as a Service as an alternative to owning charging stations for charging their electric vehicle fleet.
An EV Charging as a Service (EV CaaS) provider will ensure a stress-free installation of all Electric Vehicle Supply Equipment (EVSE), 24/7 maintenance, customer management, and more.
So that means no upfront investment and no running costs for the EV user, except for the monthly or annual fee to the CaaS provider.
The role of EV Charging as a Service (EV CaaS)
To explain the role of EV Charging as a Service (EV CaaS), let's look at the most common example.
A company decides to start introducing electric vehicles to their company fleet.
They soon realize that EV Fleet management is very different, and at the minimum, they at least need EV charging stations.
On top of that, they also want to offer their employees a chance to charge their electric cars.
First, they think about investing and building EV charging stations by themselves.
They start calculating how much money, time, and human resources it would take to prepare and operate such a project.
Soon, they realize they have no experience and knowledge in this field.
In addition, the predicted investment is growing by the day.
They need to invest in project management, documentation, and an EV charging station management system and hire more employees to keep it running afterward.
After some consideration, they decide to focus on their primary business and find someone to manage it.
This is where EV Charging as a Service provider comes into the picture.
He will do the whole work, deliver the finished product and handle all the operations once it's running.
The best part is they don't need to make any investment. They get everything for a monthly or annual fee.
So the investment in EV Charging has suddenly become stress-free and with a predictable cost.
How EV Charging as a Service (EV CaaS) Works?
EV Charging as a Service (EV CaaS) is a service that helps users save time, money, and energy they would have to spend on planning the project, installing EV Chargers, EV Charging software, and all EVSE that goes with it.
A third party (EV CaaS provider) will conduct everything regarding this process and provide 24/7 maintenance and other services based on the subscription plan.
In other words, an EV CaaS provider uses his expertise to advise the company on how many EV chargers they need and what type to use.
Then, he makes the project plan and takes over project management.
He does all the groundwork and provides EV charging station contractors.
The EV CaaS provider also purchases smart charging stations and all the other necessary equipment and material.
His team also does all the IT work and connects the stations with the EV Charging platform.
After the stations are operational, the EV CaaS provider will educate the user on using the stations.
The provider will look after the charging stations and provide flawless operation.
At least until the contract runs out.
For the EV CaaS user, that means he avoided all the stress of the EV Charging project.
At the same time, he doesn't carry the burden of owning and maintaining the system.
His only obligation is to regularly pay the monthly or annual subscription as agreed upon in the EV Charging as a Service contract.
The contract duration will usually be from five to fifteen years.
This, however, largely depends on the size of the investment and the selected Charging as a Service business model.
Responsibilities of EV CaaS Provider
The EV Charging as a Service (EV CaaS) provider offers a secure and care-free EV Charging solution with greater flexibility to anyone with multiple electric vehicles needing charging.
EV CaaS providers' responsibilities are:
To handle all project management and installation efforts
The providers hire contractors, install software, calculate expenses and fees, manage all the other work and deliver the finished product. He also manages the software and upgrades later during the contract term.
To operate the EV Charging software
The EV CaaS provider operates the Smart EV charging software. It can also include other options like EV Charging Roaming or V2G – Vehicle to Grid technology if agreed upon.
To provide entire operations and maintenance
Every aspect of this process will be covered by the EV CaaS provider, from the construction work to software maintenance after the implementation.
To provide access to customer management
The provider manages the whole system after signing the contract with the user. This includes access to customer support, management, and EV Billing.
24/7 support and security
EV CaaS user enjoys full 24/7 support from the provider. Every bug, software, network problem, or anything else – the EV CaaS provider will solve the issue.
In EV CaaS, Who Owns the Charging Stations?
The EV charging stations used as EV Charging as a Service will remain in the ownership of the EV CaaS provider.
Therefore the EV CaaS user is the host of the charging network.
After the contract duration is over, everything is negotiable.
The host can buy the EV charging stations and platform from the provider.
Or he can extend the contract and is eligible for an upgrade of charging stations or their replacement with new models or different types.
What if the EV CaaS user or the EV CaaS provider wants to cancel the service before the contract ends?
It is possible, of course, according to the terms and contract penalties agreed upon in the contract.
Benefits of EV Charging as a Service
There are more ways in which Charging as a Service (EV CaaS) can benefit users, their businesses, and the broader community.
Since EV CaaS offers an economical and low-risk approach to both private and business EV charging solutions, experts claim EV CaaS will significantly help in the worldwide adoption of electric vehicles.
Benefits of Charging as a Service (EV CaaS) for businesses
Lower Upfront Costs
EV CaaS users only pay a subscription to the provider. This means no investment and no upfront costs.
Predictable Expenses
EV CaaS provider calculates the entire investment and costs, and with that calculation, he determines the monthly or annual fee without any other hidden charges. This gives the user a good insight into his future expenses from the first day on.
Time and human resources involved in the project
Since EV CaaS providers will deliver the finished product and maintain everything, there is no need for additional employment or extra time to be allocated to the project.
Stress-free operating & maintenance
The providers operate and maintain the system after it is installed. There is no need for EV CaaS users to worry about these, which makes everything simple and stress-free for the user.
Constant technical updates
Updates to the system are done regularly by the provider. Also, every time the user renews the contract with the EV CaaS provider, they have the option of upgrading services. When renewing the contract, the EV CaaS user can add additional agreement terms to the contract if significant service upgrades are needed.
Customers' and employees' satisfaction and retention
Customer retention and employee satisfaction are the sum of all the company's efforts. They are intended to keep customers buying from a company and keep employees happy and productive.
By encouraging customer and company interaction, EV CaaS users can turn customers into repeat buyers and prevent them from switching to a competitor. EV Charging can also serve as a tool for that.
The same goes for employees. Offering a working environment with EV charging stations can be seen as a benefit.
Revenue generation
Depending on the selected Charging as a Service business model, EV CaaS can generate revenue and help pay for the monthly or annual service fee.
Meeting the sustainability goals
Using EV CaaS to offer EV charging can boost EV ownership. As the number of EV users increases, it creates a better environment for all and reduces carbon emissions.
Boosting the company's public image
If a company is socially responsible and sustainable, it can boost its public image and status among customers. So offering EV charging and promoting EV usage can only benefit the company.
Putting the company on the e-mobility map
Having charging points at your property directly puts you in online EV Charging databases. With the EV community growing every second, being listed in EV Charging apps puts the company on the map for EV users.
EV CaaS as a Business Model
The EV charging as a service business model varies depending on whether you look at it from the provider's or user's perspective. Let's look at it from both sides.
EV Charging as a Service Business Model for Providers
The basic EV Charging as a Service business for a provider and the source of revenue is the subscription fee he will receive from EV CaaS users.
The entire investment in the project and the estimated running costs are calculated against the duration of the contract and divided into monthly or annual fees.
He receives regular payments, and if his calculations are correct, he will generate a profit.
This model is most common in EV Fleet Charging as a Service.
It is used primarily when a company uses charging stations for its own needs.
In addition, a provider can earn revenue if he acts like an Electro mobility service provider (EMSP).
That means he directly charges the end-users.
This model is attractive for EV CaaS hosts that just want EV Chargers on the property but don't want anything to do with them.
For instance, a shopping mall or apartment complex must have EV Chargers by law.
However, sometimes the facility manager has no interest in dealing with the EV charging business.
Then an EV CaaS provider can act as EMSP and sell EV Charging directly to users.
There are also business models somewhere in the middle, based on a partnership between the provider and host.
These business models include co-branding, product bundling, and more.
EV Charging as a Service Business Model for Hosts
The business model for the host is the same as any other business model for EV Charging.
The difference is only in ownership of the stations.
The cost recovery model can be attractive for EV CaaS hosts that need charging primarily for themself.
Additionally, when done right, they can use the chargers by themself and still get enough revenue from selling EV Charging to other users to pay off the monthly fee.
For a more in-depth look, please read our EV charging business model blog.
Who can use EV CaaS?
More target groups can be interesting for EV Charging as a Service provider.
First are the homeowners and small apartment complexes that need only a few simple EV charging stations.
A provider will have universal solutions with basic home EV charging stations that are simple to install and maintain.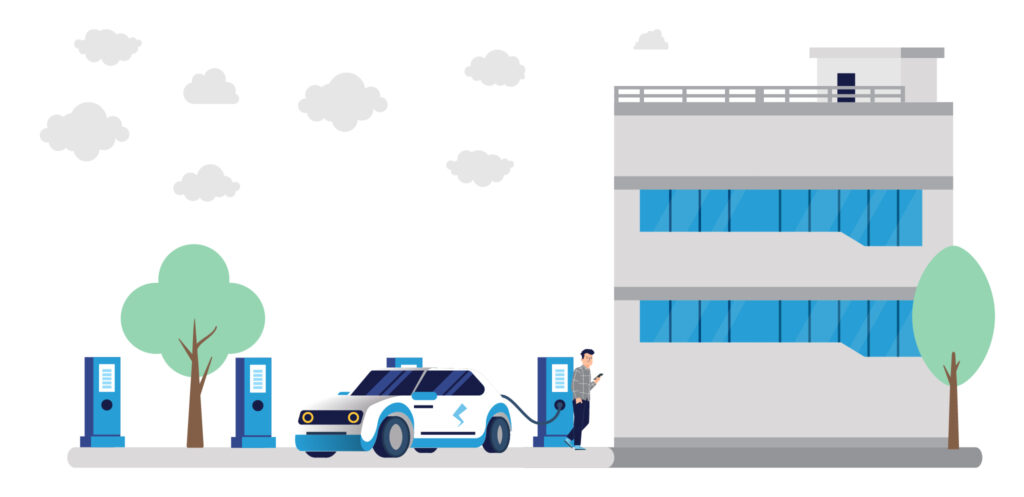 Next are large apartment complexes, hotels, shopping malls, and office buildings needing to install EV chargers.
If not, because of them, they will have to do it sooner or later when it is required by law.
These installations will be bigger and will need some EV Charging as a Service business model to go with it.
A hotel may use EV CaaS to provide its guests with free EV charging, and on the other side, a shopping mall may offer EV Charging for full price and give discounts only to their customers.
Companies operating EV fleets are currently showing the biggest interest in EV Charging as a Service.
They are the first to adopt this service for a good reason.
Fleet Charging as a Service
Electric vehicle fleets are a particularly interesting market for CaaS services because they require many charging stations and often fast ones.
They also need excellent EV Charging software connected to their fleet management system.
On top of that, they risk overloading the local power grid if the charging is not managed correctly.
For large fleets like delivery, public transit, or taxi companies, switching from ICE vehicles to electric vehicles will be stressful.
As we have shown in the example, in the beginning, fleet Charging as a Service will, for many, be the only option to install EV chargers.
Especially since fleet Charging as a Service qualifies as an OPEX expense.
CAPEX vs. OPEX principle in EV CaaS
When it comes to expenses related to EV CaaS and EV Fleets, every business must consider CAPEX and OPEX calculations.
It's vital to consider them when a company decides if they will buy or lease electric fleet vehicles and build the EV chargers by themself or use fleet Charging as a Service.
Capital expenditures (CAPEX) are bigger investments and purchases which are designed to be used over the long term.
Buying vehicles or investing in EV Chargers qualify as CAPEX.
Operating expenses (OPEX) are the company's day-to-day expenses to keep its business operations.
Consequently, leasing vehicles or paying the monthly fee for fleet Charging as a Service is OPEX.
The primary consideration for companies is not whether they can invest in vehicles and chargers but the tax politics.
Capital expenditures (CAPEX) cannot be deducted from income for tax purposes while operating expenses (OPEX) can be deducted from taxes.
In general, companies, especially in Europe, prefer OPEX expenses.
For them, to use fleet Charging as a Service instead of investing in EV Charging is ideal.
Ready to get started?
Learn how your business can thrive with Tridens EV Charge.
Schedule a Demo