Usage-based pricing examples mentioned in this blog show a successful stories for increasing revenue and retaining customers.
A 2021 study by Vista Point Advisors has shown that 37% of Fortune 5000 SaaS companies utilize usage-based pricing.
By charging customers based on the exact amount of resources they consume, usage-based billing can offer plans that fit each customer's unique needs, while also maximizing revenue.
In this article, we'll take a closer look at some of the most successful SaaS companies that have embraced usage-based pricing and examine the models they implement.
Let's dive in.
Usage-Based Pricing Examples in the SaaS Industry
From infrastructure layer companies to API-based products and application software, usage-based pricing now plays a role in almost all emerging SaaS industry trends.
Let's check out some of the most popular SaaS usage-based pricing examples and see how these companies are leveraging it:
Dropbox – Data Usage in SaaS
Dropbox is a cloud-based file hosting and synchronization software that allows users to store and share files online.
The company utilizes usage-based billing software to create pricing models based on the amount of storage space a user requires. The more storage a user needs, the higher the subscription billing fee.
Dropbox's paid plans start at 2 TB of storage space and a single user, and the prices rise as storage space and the number of allowed users go up.

There's also a freemium model that users who need just a few gigabytes of storage space can opt for.
Snowflake – Account Usage Plans
Snowflake is a data warehousing and analytics platform that allows users to store, manage, and analyze large amounts of data.
The company charges customers based on two factors – the amount of data they store and the amount of computing resources they use. Customers can scale their usage up or down as needed.
For computing-based pricing, the precise fee depends on the number of credits customers use to run queries, with a standard, enterprise, and business-critical plan included. As for storage, customers are charged by the number of bytes they store per month, alongside the cost of moving data across clouds.
Mailchimp – Pricing Plans
Mailchimp is an email marketing and automation platform that helps businesses manage their email campaigns and sequences.
There are three pricing models implemented here – freemium, feature-based, and usage-based.
The usage-based pricing charges customers based on the number of subscribers they have in their email lists and the volume of emails they send.
There are also elements of tiered pricing, with overage charges when a user exceeds a plan's monthly email send limit.
One big benefit of Mailchimp is that users can opt for a pay-as-you-go option that runs on credits, which is great if you're not constantly running new campaigns.
Stripe Usage-Based Billing
Stripe is a global payment processing platform that allows businesses to accept payments online. The company charges customers based on the volume of transactions they process.
Software & Saas: Unlocking Its Full Potential
Stripe offers a range of pricing plans to suit different business needs, including pay-as-you-go plans that charge a flat fee per transaction and volume-based plans that offer discounted rates for larger transaction volumes.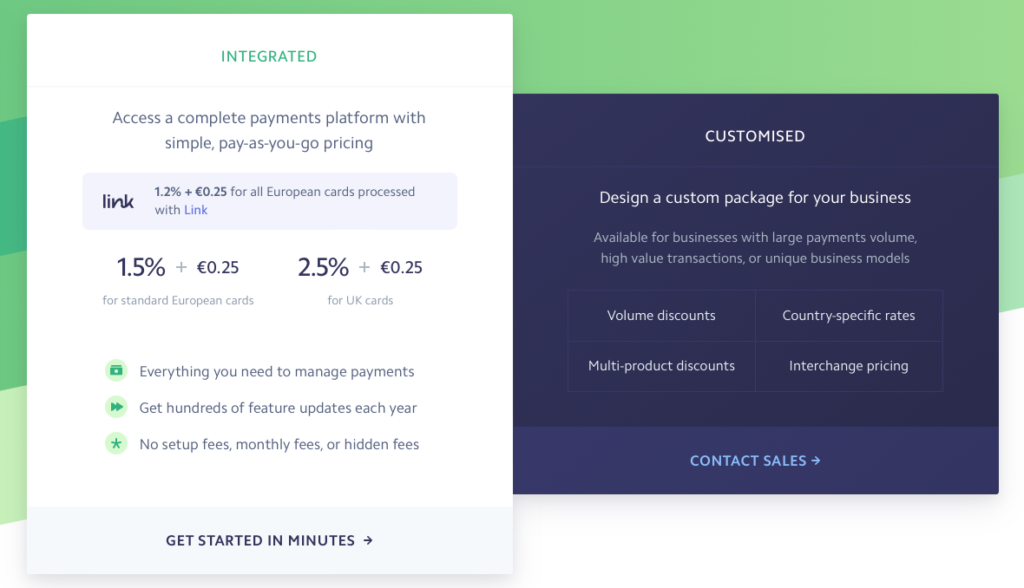 In other words, no matter the transaction size, card type, or card issuer network, all customers are charged per successful card transaction.
There's also additional pricing of services like international card payments and chargebacks.
Twilio – SMS Pricing Plans
Twilio is an API-based cloud communications platform that allows businesses to build and implement communication channels like SMS, voice, and video, into their applications.
There are three usage-based payment options you can choose with Twilio – pay-as-you-go, volume discounts, committed-use discounts, or a combination of all three.
Twilio's usage-based pricing platform also depends on factors such as the selected communication type, volume of communication, and the level of support required.
For example, their SMS product pricing works by charging per message a user sends.
Jasper – AI Pricing
Jasper is one of the most popular AI-powered copywriting tools that allows businesses to curate brand-tailored content for all channels much faster than humans.
Since Jasper's main selling point is the content it creates, that's exactly how the company charges its customers – based on the number of words they use per month.
The most affordable option is 20,000 words per month in the Starter plan that's mainly designed for short-form copy. If you want Jasper to learn and replicate your brand voice and create quality long-form content, you'll need to opt for a pricier Boss Mode or Business plan.
Amazon Web Services (AWS) – Pricing Calculator
Amazon Web Services (AWS) works as a cloud computing platform that provides a wide range of services, including computing, storage, databases, analytics, machine learning, and the Internet of Things (IoT).
Each service has its own pricing structure, which is based on factors like the amount of data stored, the number of requests made, the amount of computing power used, or similar.
Customers only pay for the resources they use, but they can also take advantage of multiple unit pricing discounts.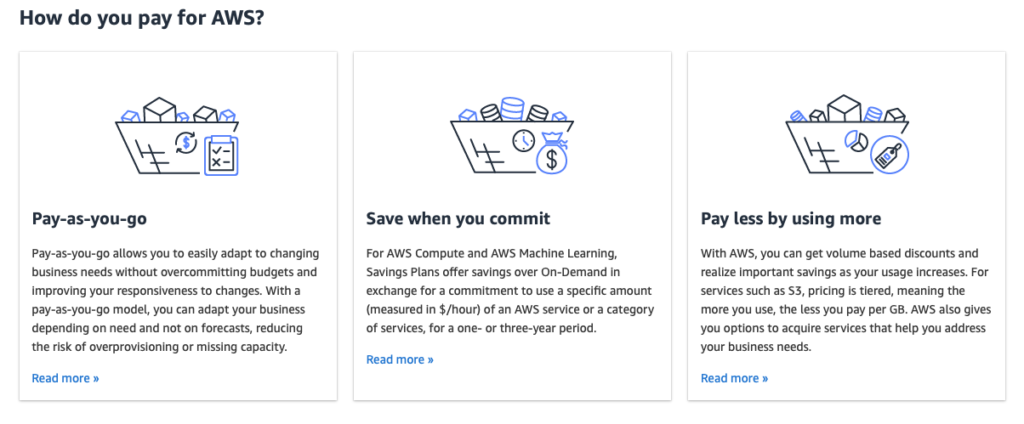 For example, AWS offers computing services such as Amazon EC2, which allows customers to rent virtual servers on an hourly basis. Customers can choose the type of instance they need based on the amount of CPU, memory, and storage required.
Zoom – Plans and Pricing
Zoom is a video conferencing platform that offers a range of features for remote communication, including video and audio conferencing, screen sharing, and virtual backgrounds.
The company offers several pricing plans to suit different business needs, with pricing based on the number of hosts and participants allowed per meeting, as well as the duration of the meeting.
There's a free Basic plan that provides access to the basic video conferencing features, such as hosting up to 100 participants and unlimited one-on-one meetings.
The paid plans offer additional features such as larger meeting capacities, advanced admin controls, and additional integrations.
Overall, Zoom leverages user-based pricing to charge customers for precise meeting times and attendee capacity.
Why Do SaaS Companies Choose Usage-Based Pricing
We already mentioned how an increasing number of SaaS companies are implementing usage-based pricing, but why is that?
Let's check out some of the main benefits that this pricing model brings to the industry:
• Improved customer retention: Customers are more likely to continue using a SaaS product if they only pay for what they use, rather than being locked into a long-term contract with a fixed price.
• Flexibility: Usage-based pricing offers flexibility for both customers and companies. Customers can adjust their usage based on their needs, while companies can adjust pricing based on demand, usage, and other factors.
• Automated billing and invoicing: By tracking usage data, the system can automatically calculate the billing amount and generate invoices, reducing the need for manual processes.
• Real-time business intelligence: By analyzing real-time usage data, SaaS companies can gain insights into customer behavior, identify usage patterns, and optimize pricing strategies. This can later lead to increased revenue and improved business performance.
• Lower barriers to entry: Customers can try the software on a small scale and scale up as needed, which can be more appealing than committing to a large upfront cost.
Conclusion
Overall, there are a ton of usage-based pricing examples in the SaaS industry nowadays that prove how efficient this pricing strategy can be.
By charging customers based on their actual usage, SaaS companies stay competitive, maximize their revenue, and make sure their customers are satisfied.
They make sure no money's being left on the table.
If you haven't implemented usage-based pricing in your own organization yet and are still looking for the best way to do it, then analyzing these success stories could provide you with some real-world insights that will help you devise a winning strategy.
Ready to get started?
Learn how your business can thrive with Tridens Monetization for Software & SaaS.
Schedule a Demo