In today's ever-evolving business landscape, subscription billing has emerged as a vital component for companies of all sizes. As such, selecting the ideal subscription management and billing platform that caters to your unique needs is paramount.
This blog will provide a comprehensive analysis of Zuora vs. Stripe Billing, two popular subscription billing platforms.
We will explore the key differences between these two platforms and delve into their strengths and weaknesses, ultimately guiding you in making an informed decision on the best fit for your company's requirements.
Our goal is to give you an in-depth analysis of each platform by comparing features, integrations, pricing models, and more.
Of course, we didn't forget user reviews and ratings from reputable review sites like G2, GetApp, and Capterra.
Whether you're considering a replacement for your existing billing solution or just embarking on your search, this article is essential reading.
We will provide you with the most comprehensive comparison of Zuora and Stripe Billing while also introducing a strong alternative, our Tridens Monetization platform.
Zuora vs. Stripe – the comparison method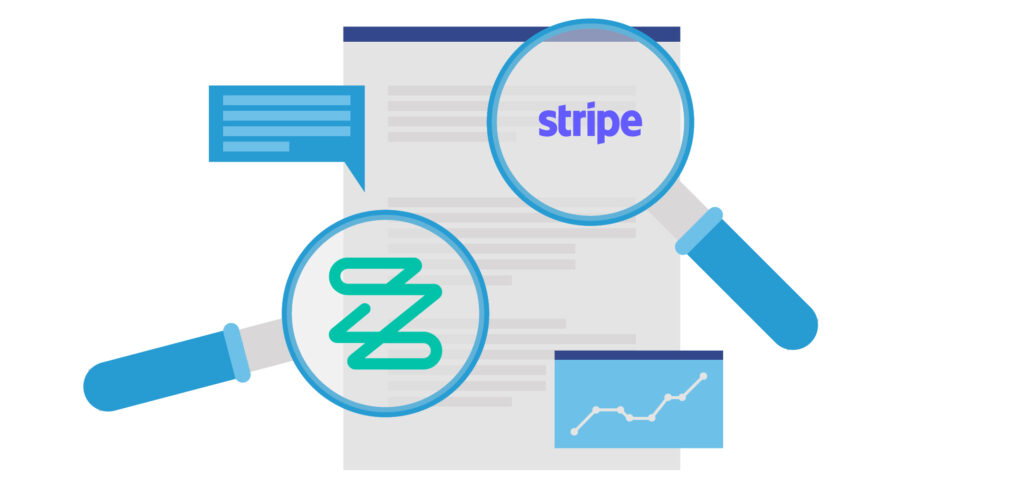 Zuora and Stripe Billing are platforms designed to help businesses simplify the management of recurring revenue processes through subscription and billing automation. While they both offer similar features, there are numerous distinctions between them.
To ensure a balanced comparison, our research evaluated their características principais and assessed the variety of integration e configuration options, such as APIs e plug-ins.
Furthermore, we explored opiniões e classificações de clientes to gather insights on user experience, including aspects like ease of use, user interface, preços, potencial taxas ocultase apoio ao cliente.
Despite the scarcity of publicly available information regarding the costs of initiating and running each platform, we incorporated this data into our analysis.
By employing these methods and drawing from multiple sources, we aim to deliver a comprehensive and impartial comparison of Zuora and Stripe Billing, enabling readers to gain a deeper understanding of both platforms.
O que é Zuora?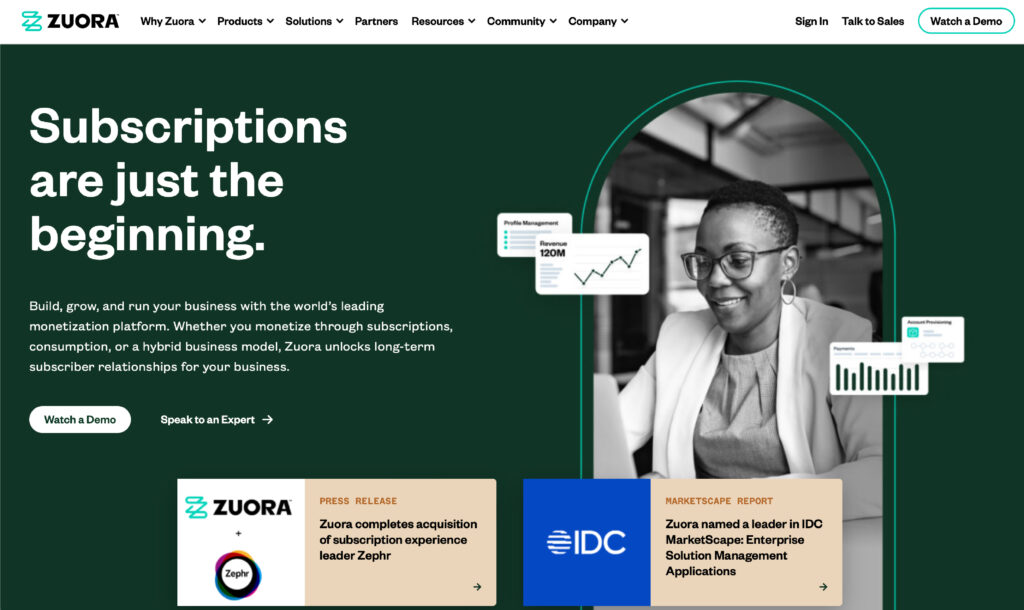 Zuora is a subscription billing and management platform primarily designed for medium-sized and larger companies or enterprises. In addition to billing, it excels in revenue recognition and accounting functions.
The platform supports subscription and quote-to-cash process (CPQ) management, automated payment processing, analytics, and many other valuable features tailored to meet the needs of larger organizations.
O que faz a Zuora?
Zuora is a robust billing platform with a comprehensive set of features and capabilities that businesses use to manage all aspects of subscription-based billing and revenue recognition processes.
Zuora's recurring billing functionality automates the process of collecting payments for subscription-based services. Furthermore, its usage-based billing function enables businesses to charge customers based on their consumption of resources.
Em suma, as suas extensas funcionalidades e integrações ajudam as empresas a unificar os fluxos de receitas e a gerir as subscrições, o consumo e várias estratégias de preços.
Quem é o proprietário da Zuora?
A Zuora foi fundada em 2007 por Tien Tzuo, K.V. Rao e Cheng Zou e é uma empresa de capital aberto que é propriedade dos accionistas.
A empresa tornou-se pública em Abril de 2018 e está cotada na Bolsa de Valores de Nova Iorque (NYSE) sob o símbolo ZUO.
Os accionistas da Zuora incluem investidores individuais e institucionais que detêm acções da empresa.
Media & Entretenimento: Desbloquear todo o seu potencial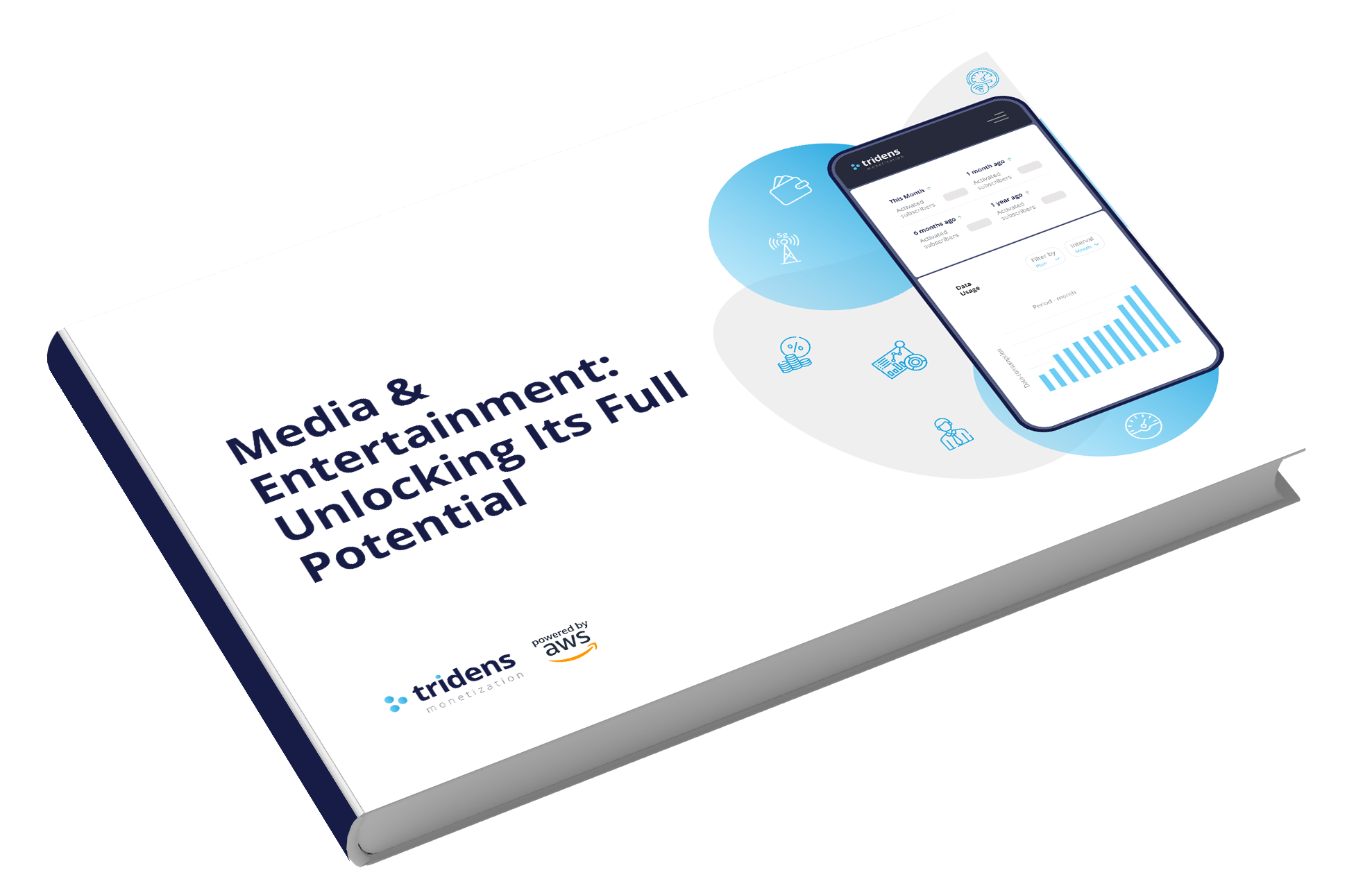 Onde está localizada a Zuora?
A sede de Zuora fica na 101 Redwood Shores Parkway em Redwood City, Califórnia.
O que é o Stripe?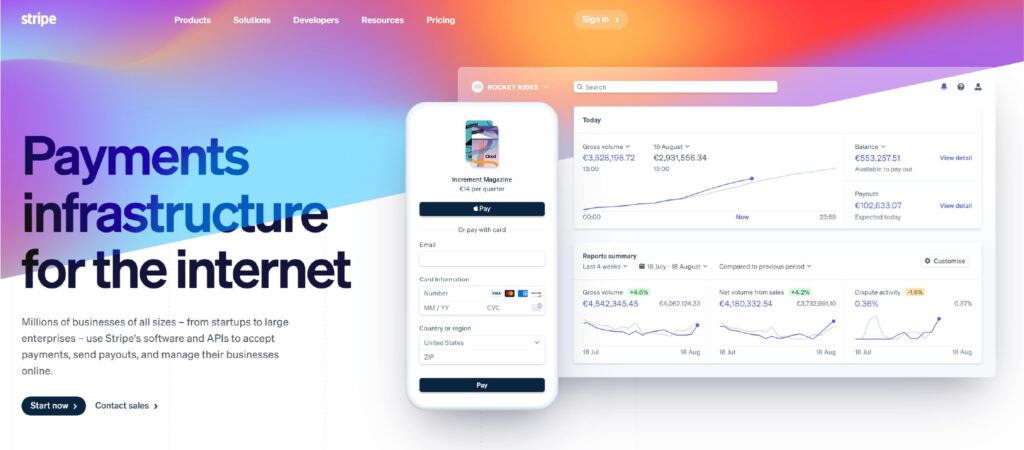 Listra is a tech company widely recognized for its online payment processing platform.
Besides its payment processing capabilities, Stripe provides an array of additional tools and services for businesses.
Among these offerings is Stripe Billing, a product we will examine in greater detail as we compare subscription management platforms.
O que é a faturação Stripe?
Stripe Billing, a product offered by Stripe, assists businesses in creating invoices, managing subscriptions, and receiving customer payments.
Integrated within the Stripe platform, it collaborates with Stripe Payments to handle transactions.
Furthermore, it facilitates recurring payments and various pricing models on a global scale.
O que é que o Stripe Billing faz?
Stripe Billing, an enhancement to Stripe's payment processing platform, equips businesses with the necessary tools to manage and automate their billing and subscription procedures.
With a variety of features, it assists companies in handling recurring payments, subscriptions, and invoices through customizable invoices, payment collection, revenue recognition, as well as analytics, and reporting.
In essence, Stripe Billing streamlines the intricate process of subscription management and payment collection for businesses across all sizes.
Quem é o proprietário do Stripe?
A Stripe foi fundada em 2010 pelos empresários irlandeses Patrick e John Collison, que são também os actuais proprietários e CEOs da empresa. Desde a sua fundação, a Stripe tem crescido rapidamente, tornando-se uma das principais plataformas de processamento de pagamentos a nível mundial.
A Stripe é uma empresa privada e a sua propriedade está dividida entre os seus fundadores e vários investidores. A partir de 2021, Patrick e John Collison continuam a ser os maiores accionistas individuais da empresa, com uma participação combinada de cerca de 30%.
Outros investidores importantes no Stripe incluem empresas de capital de risco como a Sequoia Capital, a Andreessen Horowitz e a General Catalyst, bem como os processadores de pagamentos Visa e Mastercard.

Onde se situa o Stripe?
O Stripe tem uma sede dupla nos Estados Unidos e na Irlanda.
O endereço da sua sede nos EUA é 354 Oyster Point Blvd, South San Francisco, Califórnia.
O endereço da sua sede na Irlanda é The One Building, 1 Grand Canal Street Lower, Dublin.
Who uses Zuora and Stripe?
Stripe, an online payment processing platform, is utilized by numerous businesses and organizations across the globe. In fact, it is one of the integrations offered by Zuora, as some of its clients use Stripe for payment processing.
To clarify any confusion, Zuora and Stripe function as complementary products.
However, when discussing Stripe Billing vs. Zuora, they are competitors in the market.
Who uses Zuora and Stripe Billing?
Zuora and Stripe Billing are primarily utilized by businesses with subscription-based revenue models.
Still, they also cater to companies with a blend of subscription and non-subscription revenue models, such as one-time payments, prepaid services, pay-as-you-go, or usage-based and metered billing.
This is particularly noticeable with Stripe Billing, as the wider Stripe ecosystem offers an array of tools and functionalities to accommodate various non-subscription revenue models.
Industries that employ Zuora, Stripe Billing, or their alternatives for subscription management, recurring billing, and more include:
Software-como-um-serviço (SaaS)
Comunicações
Serviços financeiros
Media e entretenimento digital
Comércio electrónico
Cuidados de saúde
Bens de consumo e retalho
Cuidados de saúde
Startups
Alta tecnologia
E-learning
Publicação
Vídeo & OTT
Sem fins lucrativos
Zuora and Stripe Billing are both customizable and scalable, allowing businesses to adapt the platforms to their growth and changing needs.
Generally, factors like budget, long-term growth projections, and specific requirements are more significant than company size when selecting a billing platform.
However, as we will see later, in the context of Zuora vs. Stripe Billing, the size of the company and the complexity of its business do play an important role.
Clientes Zuora
Zuora is mostly considered a billing platform designed for mid to enterprise-level applications.
Therefore, it is generally preferred by larger organizations with a substantial subscriber base and intricate billing requirements.
Os principais clientes da Zuora são empresas com 50 a 200 empregados e um rendimento anual de entre $10 e $50 milhões.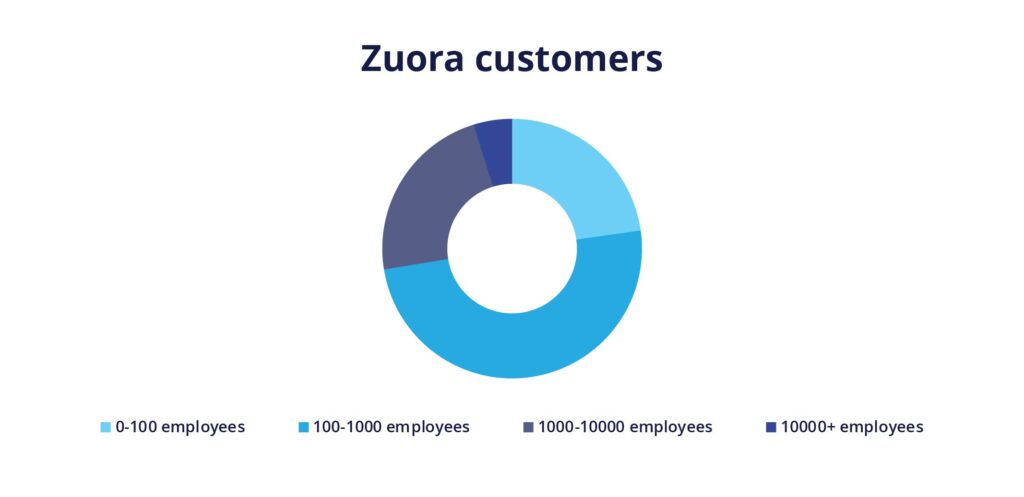 49,7% de clientes da Zuora são empresas com 100 a 1000 empregados, seguidas por 22,8% de empresas com até 100 empregados e o mesmo número de empresas com 1000 a 10000 empregados.
A percentagem de clientes com mais de 10.000 empregados é de 4,8%.
Mais de metade (56,6%) destas empresas são dos Estados Unidos, sendo outros mercados importantes o Reino Unido (12,4%), Canadá (6,2%), e Alemanha (4,1%).
Algumas das empresas mais proeminentes que usam Zuora são o Grupo AXA, NetSuite Inc, International Business Machines Corporation, Schneider Electric, Seiko Epson, Zillow Group, Salesforce, e Visa.
Fonte: appsruntheworld
Stripe Clientes de faturação
Stripe Billing is especially popular among small businesses seeking a cost-effective subscription billing solution. Nonetheless, there are also notable medium-sized businesses among its clientele.
Os principais clientes da Stripe Billing são empresas com um máximo de 100 empregados e receitas até 10 milhões de dólares.
73.9% of Stripe customers are companies with up to 100 employees, followed by 17.4% of companies with 100 to 1000 employees.
Companies with 1000 to 10000 employees present an 8.7% share, while according to statistics, Stripe Billing doesn't have clients with more than 10.000 employees.
Stripe Billing has quite an international list of clients. 39.1% of these are companies from the United States, followed by Germany with 13%.
Other important markets are Cabada, United Kingdom, India, and South Korea, each representing an 8.7% share. Ending the list of biggest clients by countries are Switzerland, Finland, and South Africa, with a 4.3% share.
Algumas das empresas mais proeminentes que usam o Stripe Billing são Slack, Atlassian, Notion, Nextdoor, Udacity, The Atlantic, Postmates, WeTransfer, Meetup e muito mais.
Por outro lado, a plataforma de processamento de pagamentos Stripe pode gabar-se de ter clientes como a Amazon, AliExpress, Apple, Etsy, Walmart, Target e muitos outros.
Fonte: appsruntheworld
Zuora and Stripe Billing pricing
Stripe Billing features a straightforward pricing model with two tiers (+overage fees), whereas Zuora's pricing depends on usage and volume.
It's crucial to emphasize that these pricing plans encompass fundamental subscription and billing management components. Extra fees may be incurred for services like payment processing, currency conversion, and so on.
Zuora (price/year)*
Stripe Faturação (preço/mês)
Free Trial❌ (only Test Drive)
Teste gratuito❌
Launch plan – $75.000
Starter - 0,5% nos pagamentos recorrentes
Plano à escala - $175.000
Escala - 0,8% nos pagamentos recorrentes e
pagamentos únicos de facturas
Plano empresarial - $250.000
*- de acordo com os preços no AWS Marketplace
Como é que a Zuora ganha dinheiro?
Firstly, let's mention that apart from pricing on the AWS Marketplace, Zuora does not have an official public price list.
According to company press releases, Zuora employs a "dynamic pricing model" where customers pay based on the value they derive from the platform.
Zuora charges a one-time upfront fee for equipment or service activation.
Subsequently, customers are charged recurring fees, including a flat monthly rate and a per-unit or per-user fee.
Additionally, there are other usage fees, where charges depend on factors like the extent of product usage, such as per minute, per article, or per gigabyte.
It's important to exercise caution, as businesses should thoroughly calculate their expenses when using the software.
Numerous user reviews have expressed dissatisfaction with costs being higher than anticipated. However, it remains debatable whether this is due to Zuora's presentation of the price list or customers' poor judgment prior to adoption.
Como é que o Stripe ganha dinheiro?
First, let's examine how Stripe, as a company, generates revenue.
The Stripe ecosystem is built upon its core product – the payment processing platform.
Moreover, Stripe offers additional products to enhance the platform's capabilities, such as Connect, Billing, Issuing, Atlas, Sigma, and Radar.
The majority of Stripe's revenue comes from transaction fees for credit and debit card payments processed through its platform.
Stripe charges a 2.9% + $0.30 fee per card charge for transactions in the US. For international transactions, the fees increase to 3.9% + $0.30 per charge.
This is just one example, as various fees are also associated with different payment processing services offered by Stripe.
For larger clients like enterprises, Stripe provides custom pricing plans. Stripe also has diverse pricing plans for other services based on monthly subscriptions or pay-per-usage schemes.
Altogether, Stripe's gross revenue in 2022 was $14 billion, a 20% increase from 2021.
Como é que o Stripe Billing ganha dinheiro?
Stripe Billing offers two pricing plans, Arranque e Escala, which don't include a conventional free trial. However, Stripe's pay-as-you-go pricing model enables you to begin using its platform without any upfront costs or subscription fees.
You'll only pay a percentage of the recurring charges as your business grows and processes transactions through Stripe Billing.
It's crucial to note that when using Stripe Billing, users still need to pay for Stripe's core payment processing services, which are charged separately from the usage-based fees for Stripe Billing.

Stripe's Starter plan is designed for businesses just starting with subscription models or those seeking a basic recurring billing solution.
This plan includes core features such as recurring billing capabilities, invoicing, automatic reminders, and a customer portal. The Starter plan is free to begin with, and users pay a fee of 0.5% on recurring payments.
O Scale plan targets larger businesses or those with more complex billing needs. In addition to the features offered in the Starter plan, it includes functions like one-time invoicing, quotes, retries, revenue recognition, and more.
Com o plano Scale, os utilizadores pagam uma taxa de 0,8% em pagamentos recorrentes e facturas únicas.
As we'll demonstrate later in the analysis of user reviews, pricing or, more specifically, fees charged on invoices and payment processing are among the most common complaints users have about Stripe Billing.
Some users even claim that, when considering payment processing fees and Stripe Billing fees combined, businesses could reduce their costs by half by switching to some competitors.
Zuora vs. Stripe Billing: Comparison of features
Before diving into the detailed comparison of Zuora vs. Stripe Billing features, it's essential to recognize that the selection of a platform ultimately depends on a company's specific requirements.
Although two solutions may seem alike in many aspects, the lack of critical features can tip the balance in favor of one over the other.
It's also worth noting that our comparison considers the full capabilities of each platform. Choosing a lower-priced plan may restrict access to certain features.
Zuora and Stripe Billing are both well-known subscription and billing management platforms. Although they have many commonalities, they vary in aspects such as features, intricacy, and appropriateness for companies with varying sizes and pricing structures.
Zuora offers an extensive array of services, including core subscription management, financial oversight and analytics, payment gateway integrations, and automated workflows.
While Zuora claims to include a customer relationship management tool (CRM), our research indicates that this is an integration with Salesforce CRM, also available through Stripe Billing.
Conversely, Stripe Billing is integrated within the Stripe ecosystem and is especially suitable for businesses already utilizing Stripe for payment processing.
Users of Stripe Billing can seamlessly integrate additional products like Stripe Connect (for marketplaces), Stripe Radar (for fraud prevention), and Stripe Sigma (for analytics).
User reviews, particularly from clients who already use Stripe and have basic billing needs and limited experience with billing software, commend Stripe Billing as an easy-to-use and efficient tool for their businesses.
Na categoria "Características" na Capterra user review site, Zuora got 3.9 out of 5 stars, while Stripe scored better with 4.6.
Both solutions can address the majority of business requirements; however, depending on unique use cases, one may have a slight advantage over the other.
Ambos os provedores têm uma lista de mais de 50 características, por isso, nesta tabela, mostramos apenas aquelas em que diferem.
| | | |
| --- | --- | --- |
| Características* | Zuora | Listra |
| Controlos/Permissões de Acesso | ❌ | ✔️ |
| Integração Contabilística | ❌ | ✔️ |
| Rastreamento de atividades | ✔️ | ❌ |
| Gestão de Auditoria | ✔️ | ❌ |
| Reconciliação Bancária | ❌ | ✔️ |
| Gestão de Cancelamentos | ❌ | ✔️ |
| Portal do Cliente | ❌ | ✔️ |
| Base de dados de contactos | ✔️ | ❌ |
| Gestão de contratos/licenças | ✔️ | ❌ |
| Perfis de clientes | ❌ | ✔️ |
| Marca Personalizável | ❌ | ✔️ |
| Campos personalizáveis | ❌ | ✔️ |
| Regras personalizáveis | ✔️ | ❌ |
| Modelos Personalizáveis | ❌ | ✔️ |
| Importação/Exportação de dados | ❌ | ✔️ |
| Visualização de dados | ❌ | ✔️ |
| Debit/Credit Card Processing | ✔️ | ❌ |
| Arrastar & Soltar | ✔️ | ❌ |
| Pagamentos electrónicos | ❌ | ✔️ |
| Assinatura electrónica | ✔️ | ❌ |
| Lembretes por correio electrónico | ❌ | ✔️ |
| Inscrições/Anboarding | ❌ | ✔️ |
| Fazendo uma estimativa | ❌ | ✔️ |
| General Ledger | ✔️ | ❌ |
| Gestão Multi-Canal | ✔️ | ❌ |
| Multi-Linguagem | ❌ | ✔️ |
| Conformidade PCI | ❌ | ✔️ |
| Integração de Serviços de Processamento de Pagamentos | ✔️ | ❌ |
| Catálogo de produtos | ✔️ | ❌ |
| Compras e Recepção | ✔️ | ❌ |
| Cotações/estimativas | ❌ | ✔️ |
| Analítica em Tempo Real | ❌ | ✔️ |
| Relatórios em Tempo Real | ❌ | ✔️ |
| Lembretes | ❌ | ✔️ |
| Relatórios/Análises | ✔️ | ❌ |
| Gestão do Plano de Assinaturas | ❌ | ✔️ |
| Relatórios sumários | ❌ | ✔️ |
| Histórico de transacções | ❌ | ✔️ |
| Analítica em Tempo Real | ❌ | ✔️ |
*- de acordo com a empresa e os sites de revisão de produtos
Zuora vs. Stripe Billing: Comparison of Integrations
In terms of integrations, Zuora and Stripe Billing both offer a wide range of options for popular business systems.
However, it's clear that Zuora places a strong emphasis on subscription management, as evidenced by its robust integration with major CRM, ERP, and payment platforms.
On the other hand, Stripe Billing offers a greater number of integrations with various e-commerce and service platforms, particularly for businesses that use Stripe's payment system.
According to user feedback, Zuora provides more comprehensive APIs and customization capabilities, enabling businesses to tailor the platform to their specific needs.
Meanwhile, Stripe Billing offers a powerful and well-documented API in multiple programming languages, but some users caution that non-developers may struggle with integrations due to the complexity involved.
Ultimately, the user experience with integrations will depend on individual scenarios, requirements, and expectations.
Both Zuora and Stripe Billing offer extensive integration options, with a few key differences that set them apart.
The following table outlines some of the most important integrations and distinguishing factors for each provider.
| | | |
| --- | --- | --- |
| Integrações* | Zuora | Listra |
| Amazon Pay | ✔️ | ✔️ |
| Apple Pay | ❌ | ✔️ |
| Plataforma de qualquer ponto | ✔️ | ❌ |
| Avalara | ✔️ | ❌ |
| Braintree | ✔️ | ❌ |
| ChurnZero | ❌ | ✔️ |
| Everstage | ✔️ | ❌ |
| GoCardless | ✔️ | ❌ |
| Google Pay | ❌ | ✔️ |
| HubSpot CRM | ❌ | ✔️ |
| Hub de marketing da HubSpot | ❌ | ✔️ |
| LeanPay | ❌ | ❌ |
| Magento BI | ✔️ | ✔️ |
| Netsuite | ✔️ | ✔️ |
| PayPal | ✔️ | ❌ |
| QuickBooks | ✔️ | ✔️ |
| Sábio Intacct | ✔️ | ❌ |
| Força de vendas | ✔️ | ✔️ |
| Comprar em | ❌ | ✔️ |
| Folga | ❌ | ✔️ |
| Listra | ✔️ | ✔️ |
| Fluxo ascendente | ✔️ | ✔️ |
| WeChat pay | ❌ | ✔️ |
| WooCommerce | ❌ | ✔️ |
| Worldpay | ✔️ | ❌ |
| Xero | ❌ | ✔️ |
| Zendesk | ✔️ | ❌ |
*- de acordo com a empresa e os sites de revisão de produtos
Experiência do cliente Zuora e opiniões de utilizadores
Overall, customers and users have a positive view of Zuora, citing its comprehensive subscription management capabilities and robust feature set as major strengths.
However, some users report technical issues, difficulties with customer support, and a steep learning curve when working with the platform.
De acordo com G2, ObterApp, Capterrae Aconselhamento sobre software, Zuora has received an average rating of 3.9 out of 5, while TrustRadius has given it a score of 6.5 out of 10.
Aviso: Todas as classificações são como eram no dia da publicação do artigo e podem mudar ao longo do tempo.
Stripe Billing experiência do cliente e opiniões dos utilizadores
Stripe Billing is widely regarded as a user-friendly subscription management platform that is particularly well-suited for companies already using the Stripe payment processing platform.
Users appreciate its ease of use and flexibility but note that customization options are limited, and complex billing scenarios are generally not supported.
As previously mentioned, integrations can also pose a challenge for users who lack the necessary expertise.
Users who primarily require basic billing functions tend to be satisfied with Stripe Billing's ease of use. However, those in need of more advanced capabilities may encounter a steep learning curve.
Criticism of Stripe Billing is most frequently centered around cost and customer support, with some users expressing frustration with these aspects of the platform.
Num site popular de análise de software empresarial G2, a faturação Stripe tem uma classificação geral de 4,4 em 5. No entanto, em ObterApp, Capterrae Aconselhamento sobre software, tem uma classificação geral de 4,7 em 5.
Em TrustRadiusO Stripe Billing como produto não tem uma categoria própria, mas está listado apenas como Stripe. As avaliações são uma mistura de todos os seus produtos, pelo que a sua classificação de 8,5 em 10 é irrelevante para a nossa comparação.
Based solely on user reviews, it might appear that Stripe Billing outperforms Zuora.
However, relying solely on overall ratings is not a reliable method for evaluation.
To get a comprehensive overview, it is necessary to consider all categories and reviews that range from platform functions to customer support. Only then can we assess how each platform would fit within one's specific business model.
Zuora vs. Stripe: The customer support
Regarding customer support, let's first mention that Stripe Billing and the whole Stripe ecosystem share the same customer support system.
However, the best way to evaluate the quality of user support is to look at user reviews and what they have to say.
| | | |
| --- | --- | --- |
| | Zuora | Stripe Facturação |
| Correio electrónico/Desktop de ajuda | ❌ | ✔️ |
| FAQs/Forums | ✔️ | ✔️ |
| Base de dados de conhecimento | ✔️ | ✔️ |
| Apoio telefónico | ❌ | ✔️ |
| 24/7 (Representante em directo) | ✔️ | ✔️ |
| Conversa | ❌ | ✔️ |
Em G2a pontuação média da indústria para "Qualidade do apoio" is 8.7. Zuora scored a pretty low 7.3 points, while Stripe Billing scored 8.4.
O ObterApp website rates Stripe's customer support at 4.7 and Zuora's at 3.6 out of 5 stars.
Aconselhamento sobre software rates for customer support are 4.5 for Stripe Billing and 3.5 out of 5 for Zuora.
Em TrustRadious, there is no extra score for "Customer support," however, Stripe (not Stripe Billing) received some very favorable reviews here, while Zuora got a mix of scores ranging from 1 to 10 stars.
Em Capterra, the users rated Stripe Billing with a score of 4.7 and Zuora with a 3.6 out of 5 in the "Customer service" category.
Overall, user reviews of Zuora vs. Stripe Billing suggest that Stripe offers slightly above-average customer support.
On the other side, Zuora's low scores are something both potential customers and the company should look into to determine if they are justified or not.
Zuora vs. Stripe Billing: Pros and Cons
The following is a list of the pros and cons of Zuora and Stripe Billing, providing a concise overview of each platform's strengths and weaknesses.
While it may not be exhaustive in its coverage, this list can aid in comparing Zuora vs. Stripe Billing and evaluating potential competitors or alternatives.
Zuora Prós & Contras
Gestão Abrangente de Assinaturas✔️
Zuora provides an all-encompassing subscription management platform, covering pricing, packaging, billing, and revenue recognition for subscription-based business models.
Flexibilidade e Personalização✔️
Zuora offers high flexibility and customization, allowing businesses to tailor the platform to their specific needs, integrating it with other business systems (such as ERP and CRM), and adapting it to their workflows.
Análises e Relatórios Avançados✔️
Zuora provides advanced analytics, reporting, and forecasting capabilities, providing businesses with a deeper understanding of various metrics and Key Performance Indicators (KPIs), such as revenue, churn rate, and customer behavior, allowing them to make informed decisions.
Integrações Fortes✔️
Zuora offers numerous integrations with other business systems, such as Salesforce and NetSuite, making it easy for businesses to integrate other tools and data sources.
Complexidade❌
Zuora's broad range of features and customizability means that some users may find it complex, time-consuming, and challenging to set up and manage, especially for smaller businesses without dedicated IT resources.
Custo❌
The pricing structure of Zuora can result in high costs, especially for businesses with many customers or complex billing needs, as the pricing is based on usage and volume. Therefore, the cost evaluation must be based on current volume, needs, and company growth projections.
Curva de Aprendizagem❌
Due to its complexity, new users of Zuora may experience a steep learning curve, which can slow down adoption and prolong the time-to-market.
Apoio ao Cliente Limitado❌
Some users have reported limited knowledge center and customer support from Zuora, particularly for smaller businesses, which can be frustrating if issues require immediate attention.
Prós e contras da faturação do Stripe
Facilidade de Uso✔️
Stripe Billing's basic interface is user-friendly, making it an excellent choice for smaller businesses without a technical background.
Flexibilidade✔️
Stripe Billing offers high flexibility and customization options, including the ability to create subscription plans, invoicing, discounts, and trials.
Integração fácil✔️
Stripe Billing provides easy-to-use APIs and SDKs that enable smooth integration with other business systems, tools, and data sources.
Documentação exaustiva✔️
Stripe offers comprehensive documentation, guides, and resources, making it easy for developers to work with the platform.
Taxas❌
Stripe Billing's pricing is transparent but may not always be the most affordable and cost-effective option for smaller businesses, especially when dealing with microtransactions or high volume.
Curva de aprendizagem❌
The extensive features and customization options of Stripe Billing may pose a steep learning curve for some users, particularly those without a technical background. This can be especially true when transitioning from basic to more advanced functions.
Capacidades limitadas de análise e elaboração de relatórios❌
One common criticism of Stripe Billing is its limited analytics and reporting capabilities compared to other competitors in subscription management and billing.
Apoio limitado para modelos complexos de facturação❌
It is no surprise that Stripe Billing does not support complex billing models, such as usage-based or tiered pricing.
Zuora vs. Stripe Billing and Alternatives
While Zuora and Stripe Billing are popular subscription management platforms, they may not be ideal for all business models and companies.
Therefore, other alternatives may be better suited for some businesses.
According to user feedback and ratings on software review websites like G2 ou ObterApp, there is a high-rated strong alternative that effectively addresses the areas where users feel that Zuora and Stripe Billing fall short.
This billing platform for small and large businesses is Tridens Monetization.
Tridens Monetization as Zuora and Stripe Billing alternative
Tridens Monetization is a cloud-based billing and revenue management platform with a proven track record of helping businesses monetize their offerings.
Its extensive capabilities include subscription management, recurring billing, and real-time usage-based billing.
In addition, Tridens Monetization can handle complex pricing models, invoicing, and payment processes and provides advanced reporting, analytics, and forecasting features.
O Tridens Monetization tem um classificação geral dos utilizadores de 4,9 em 5 em G2 e uma pontuação global de 9.7 out of 10 on TrustRadius. Em ObterAppa classificação geral do utilizador é 5 em 5, 4,95 de 5 em Aconselhamento sobre softwaree 4.9 de 5 em Capterra.
Based on the high "Probabilidade de recomendar" user review score (10/10 on Capterra and GetApp), we believe that our customers have had a positive experience with the product overall.
The fact that Tridens Monetization outperforms its competitors in terms of user reviews further positions it as a leading alternative to other subscription and billing management platforms, including Zuora and Stripe Billing.
Porquê escolher o Tridens Monetization?
Flexibilidade e Personalização✔️
O Tridens Monetization é conhecido pela sua flexibilidade, permitindo às empresas personalizar totalmente a plataforma às suas necessidades específicas e integrá-la com outros sistemas empresariais.
Também pontua 9.2 em cada 10 no G2 no "Facilidade de Instalação" category compared to the industry average of 8.3 or Zuora's 6.8 and Stripe Billing's 8.3 scores.
Escalabilidade✔️
Tridens Monetization is a highly scalable monetization solution capable of managing high transaction volumes and heavy workloads without compromising speed or performance. This ensures that it can keep up with the ever-increasing demands of businesses, whether you're a startup or a large corporation.
Pode rentabilizar os seus produtos e serviços com confiança, permitindo-lhe concentrar-se nas principais operações e crescimento do seu negócio.
Integrações Fortes✔️
O Tridens Monetization pode integrar-se com plataformas ERP e CRM populares como NetSuite e Força de vendasO software de contabilidade como QuickBooks e Xeroe gateways de pagamento como PayPal e Listra.
O suporte de integração personalizado assegura uma comunicação segura e sem falhas entre os sistemas e ajuda os nossos clientes a alavancar os investimentos actuais em tecnologia.
Facilidade de Uso✔️
A facilidade de utilização é algo que melhor depende da avaliação dos próprios utilizadores. Tridens Monetization pontuado 9.4/10 na categoria "Facilidade de Uso" on G2, well surpassing the industry average of 8.5. or Zuora's 7.5 and 9.2 of Stripe Billing. On GetApp, it scored 5/5 e 4.9/5 em Capterra.
Acessibilidade de preços✔️
Tridens Monetization offers competitive pricing and is more affordable than most billing platforms, making it a good option also for small to medium-sized businesses.
Na verdade, marcou 5 em cada 5 pontos na categoria "value for money em GetApp e Capterra revisões de utilizadores.
Características avançadas e suporte para modelos de facturação complexos✔️
A modern cloud-based billing system must handle complex billing scenarios beyond the standard billing models.
These scenarios include usage-based billing, tiered or promotional pricing, recurring subscriptions, one-time charges, or whatever businesses need to create custom billing plans.
Além disso, o sistema deve lidar com múltiplas moedas, impostos, descontos, e reembolsos, entre outras considerações.
Várias características avançadas permitem às empresas adaptar os seus modelos de facturação de acordo com os seus requisitos únicos e proporcionar maior flexibilidade, precisão e eficiência nos seus processos de facturação.
Na categoria "Características" nos sites de análise de utilizadores Capterra e GetApp, o Tridens Monetization obteve 5 de 5 estrelas em todas as análises.
Análise, relatórios e previsões avançadas✔️
A análise avançada refere-se à capacidade de um sistema de facturação para analisar dados de facturação e identificar padrões e tendências automaticamente. Ele irá extrair insights accionáveis como a demografia do cliente, volumes de transacções, tendências de receitas, e muito mais.
O relatório A função gera relatórios e dashboards personalizáveis que fornecem uma visão clara de todas as actividades de facturação, como extractos de facturação, resumos de transacções, ou informação da conta do cliente.
Previsão predicts future billing trends and anticipates customer behavior. It can, among others, include projections of future revenue, churn rates, and customer acquisition and retention rates.
With accurate and timely forecasts, businesses can make informed decisions on pricing, promotions, and other vital aspects of their billing operations.
Em geral, as nossas capacidades avançadas de análise, relatórios e previsões oferecem às empresas uma ferramenta poderosa para melhorar as suas operações de facturação, reduzir custos, aumentar as receitas e tomar decisões baseadas em dados.
Por exemplo, vejamos o churn.
Há muitas razões para a rotatividade dos clientes, mas como McKinsey & Company relatório, um abordagem orientada para a análise pode ajudar as empresas a reduzir a rotatividade em até 15%. Este número é para a indústria das telecomunicações, e estas taxas podem ser ainda mais elevadas em algumas outras indústrias.
Apoio Abrangente✔️
Provavelmente não precisamos de explicar o quão importante é o bom apoio ao cliente. Ainda assim, vamos mencionar que, de acordo com a pesquisa da thinkJar84% dos utilizadores ficam frustrados quando o agente não fornece informações úteis.
Tridens Monetization oferece suporte completo aos seus utilizadores, incluindo serviço ao cliente, documentação, e recursos de formação.
Comentários dos utilizadores do "Customer Service" apoiam esta reivindicação com uma 4.9/5 pontuação em Capterra. No G2, a pontuação média da indústria para "Qualidade do apoio" é 8.7com Tridens no topo com um 9.8 em cada 10 score, with Stripe Billing (8.4) and Zuora (7.3) well behind.
Conclusão
In summary, the choice between Zuora and Stripe Billing ultimately depends on the unique needs of each business.
While both platforms offer various subscription management tools, Zuora is purpose-built for recurring revenue billing, while Stripe Billing serves more as an extension of its payment processing platform with somewhat basic billing functionalities.
Therefore, businesses must carefully evaluate each platform's strengths and weaknesses to determine which is the best fit for their specific needs.
Furthermore, when considering subscription management platforms, it's important to examine other competitors in the market, as there are many alternatives available.
This means that the decision is not solely Zuora vs. Stripe Billing but rather a comparison of various options to find the best fit for the business.
Ultimately, the ideal platform for any business is one that can meet its needs, offer scalability and provide predictable costs.
Tridens Monetization is a valid alternative for some businesses, but it depends on their specific needs and resources.
Therefore, we suggest that businesses compare various subscription management platforms, including Tridens Monetization, to determine the best solution for their needs.
Pronto para começar?
Saiba como o seu negócio pode prosperar com o Tridens Monetization for Media & Entertainment.
Agende uma demonstração