Let's find out everything about Netflix subscribers in 2023.
With the arrival of streaming platforms such as Netflix, watching movies has changed.
Netflix is the world's largest video-selling platform that offers a wide variety of movies, TV shows, documentaries, and much more.
It's definitely an excellent pick for anyone who wants to enjoy great content.
So, what makes this streaming platform so popular?
Let's dive deep into these amazing Netflix subscriber stats, including charts and graphs.
Brief history of Netflix (in numbers)
Netflix was founded in 1997 by Reed Hastings and Marc Randolph
In 1998 Netflix registered its domain Netflix.com
In 1999 Netflix began offering subscription-based DVDs by email services
In 2005 the number of subscribers increased to +5 million
In 2007 Netflix streaming service launches
In 2010 Netflix drove internationally by launching in Canada
In 2011 Netflix could be watched in Latin America
In 2012 Europeans could use it – launching in Europe
In 2013 launched its first 3 original series: House of Cards, Hemlock Grove, and Orange is the New Black
In 2016 Netflix became available worldwide
In 2017 Netflix reached 100 million subscribers
Interesting facts about Netflix (in numbers)
Netflix is #1 streaming platform in the world
Netflix is #8 largest internet company in the world
Headquarters is located in California
Netflix has over 223 million subscribers
Netflix offers a library through distribution deals and its productions, known as Netflix Originals
Netflix takes more than 25% of global streaming traffic
Almost 70% of Netflix subscribers binge watch
45% of Netflix users watch the content without having an active subscription
Netflix was the 1st streaming service available as an app
Slovakia is the country with the most content available, with around 7400 titles
Subscribers can play mobile games on Netflix
Netflix trades on the NASDAQ under the name NFLX
NFLX costs around $280
How does Netflix make money?
So how is Netflix making money?
Simple!
With the approach called the subscription business model.
To simplify, the subscription business model involves recurring charges for users in exchange for access to a product or service over some time.
In Netflix's case, subscribers have to pay a monthly subscription and have access to a comprehensive media library – anywhere, anytime.
This is how they provide a successful subscription-based streaming service.
Netflix subscription plan
Netflix currently offers 4 streaming plans.
Last year Netflix added Netflix's Basic with Ads – a lower-priced ad-supported plan.
To mention, Netflix still offers the ability to order DVDs in your mailbox (only in the US).
Anyways, you should choose the Netflix subscription plan that suits you the most.
Let's compare them!
| Basic with Ads | Basic | Standard | Premium |
| --- | --- | --- | --- |
| $6,99/month | $9,99/month | $15.49/month | $19,99/month |
| Some titles are inaccessible | Unlimited movies, TV shows, games | Unlimited movies, TV shows, games | Unlimited movies, TV shows, games |
| 1 stream at a time | 1 stream at a time | 2 streams at a time | 4 streams at a time |
| Ads | Ad-free content | Ad-free content | Ad-free content |
| HD | HD | Full HD | Ultra HD |
In fact, Netflix subscription plans vary from country to country.
The country with the cheapest Basic plan is Pakistan ($3.67).
Lucky Pakistanis :).
Media & Entertainment: Unlocking Its Full Potential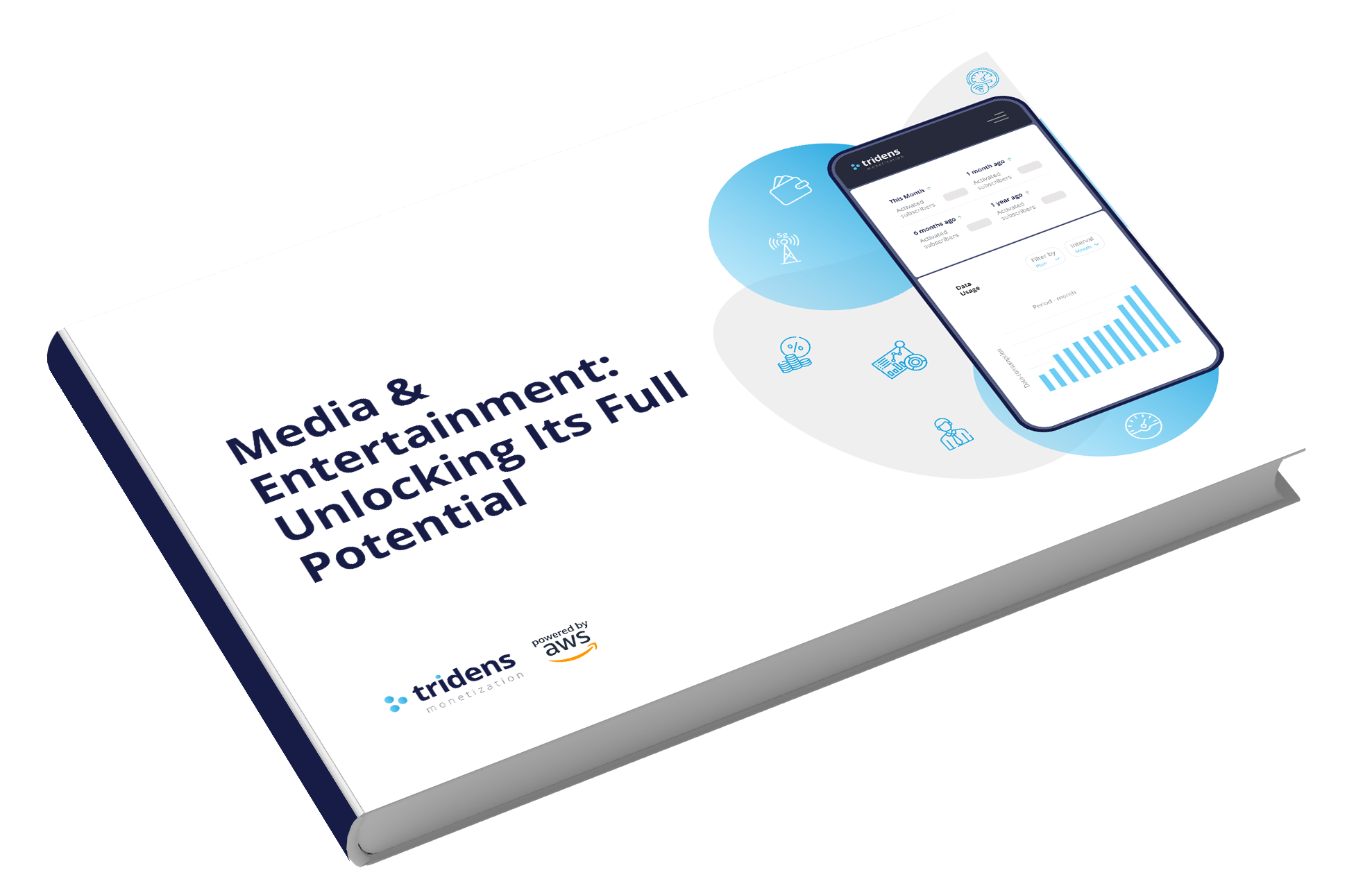 Meanwhile, Swiss subscribers pay the most.
Basic plan in Switzerland costs their subscribers $18.96.
Source: VPN wiki
Netflix annual revenue by year (+charts)
The entertainment industry has been one of the fastest-growing sectors in recent years, contributing billions of dollars annually.
In terms of that industry, Netflix is setting the standard.
Subscriptions are Netflix's primary source of revenue.
Netflix made a revenue of $23,764B in 2022.
Even though the demand was slightly lower this year, Netflix regained subscribers.
Below is a comprehensive overview of Netflix's annual revenue by year (2009 – 2022).
| Year | Annual revenue (in B) |
| --- | --- |
| 2009 | $1,670 |
| 2010 | $2,163 |
| 2011 | $3,205 |
| 2012 | $3,609 |
| 2013 | $4,375 |
| 2014 | $5,505 |
| 2015 | $6,780 |
| 2016 | $8,831 |
| 2017 | $11,693 |
| 2018 | $15,794 |
| 2019 | $20,156 |
| 2020 | $24,996 |
| 2021 | $29,698 |
| 2022 | $31,616 |
In the following, you can see how Netflix's annual revenue has increased over the past few years:
In 2019 Netflix had an annual revenue of $20,156 billion, a growth of 27.62% over 2018.
In 2020, Netflix had an annual revenue of $24,996 billion, a growth of 24.01% over 2019.
In 2021, Netflix had an annual revenue of $29.698 billion, a growth of 18.81% over 2020.
In 2022, Netflix had an annual revenue of $31,616 billion, a growth of 6,46% over 2021.
Source: Netflix, Statista, macrotrends
Who's watching Netflix in 2022?
To keep its subscribers happy, Netflix is trying to offer great content and affordable prices.
They have focused on expanding its content to offer appeal to all age groups:
In fact, Netflix is way more popular with younger users than older users.
Gen Z makes up the majority of Netflix subscribers.
While most people are satisfied with the service, they are (a little bit) concerned about price increases.
Netflix subscribers per year
In 2022 (Q1 + Q2 + Q3), Netflix recorded 223.09 million subscribers.
This table shows subscribers since 2013:
| Year | Number of subscribers (in millions) |
| --- | --- |
| 2013 | 41,43 |
| 2014 | 54,48 |
| 2015 | 70,84 |
| 2016 | 89,09 |
| 2017 | 110,64 |
| 2018 | 139,26 |
| 2019 | 167,09 |
| 2020 | 203,66 |
| 2021 | 221,84 |
| 2022 (Q1 + Q2 + Q3) | 223,09 |
Source: Statista
Netflix new subscribers
Netflix makes more profit for each new subscriber.
But after a decade of constant growth, Netflix had the most significant subscriber loss this year.
They lost more than 1.2 million subscribers in 2022!
The data show that in 2021 new subscribers were not gained but lost.
The table below shows that the decline in subscribers began in 2021.
| Year | New subscribers (in millions) |
| --- | --- |
| 2014 | 8,34 |
| 2015 | 16,36 |
| 2016 | 16,36 |
| 2017 | 21,55 |
| 2018 | 28,62 |
| 2019 | 27,83 |
| 2020 | 36,57 |
| 2021 | 18.18 |
| Q1 2022 | -0.20 |
| Q2 2022 | -0.97 |
| Q3 2022 | 2.41 |
While Netflix's subscriber base dropped from 36.57 million in 2020…
… they managed to have 18.18 million new subscribers at the start of 2021.
Somehow, the loss was lower than expected.
All those indications show that Netflix was ready for a customer decline.
Source: Statista
Why is Netflix losing so many subscribers?
This year Netflix had the most significant subscriber loss in recent 10 years.
So, what could be the reason?
A few reasons why might be because:
More competition from other streaming services.
Password sharing; multiple people using one account.
Some movies people want to watch aren't available to stream.
People are still downloading movies illegally.
People can't watch live events, like news or sports.
People use free stuff, like YouTube.
Prices are too high compared to the competition.
Netflix stopped streaming in Russia.
Although Netflix lost many users, it also managed to get them back.
Netflix subscribers by country
Netflix is the most all-over-the-place streaming service.
It's available in more than 200 countries.
Over 74 million subscribers live in North America.
In fact, the #1 Netflix market is the US.
The chart below shows that Australia and the UK had higher penetration rates.
65% of Australian households use Netflix subscription services.
Source: Statista I, Statista II
Netflix alternatives
Netflix strives to provide their subscribers with a superior user experience.
But there are quite a few streaming platforms on the market.
People will definitely look for the most affordable and the one that offers the best content.
Disney Plus
Disney+ opens up an entire world of entertainment, providing exclusive access to the vast library of The Walt Disney Company.
From films and series featuring classic characters like Mickey Mouse to all-new productions geared toward today's generation.
Prime Video
Prime Video is a streaming video service by Amazon.
With an Amazon prime membership, you can unlock a world of entertainment with access to thousands of movies, TV shows, and award-winning Amazon Originals.
Hulu
Hulu is a streaming service largely owned by The Walt Disney Company and partially backed by Comcast's NBCUniversal.
It offers subscription-based access to an array of Hollywood blockbusters. In addition to that, several bundle options are available, including access to live TV, as well as to Disney+ and ESPN+.
HBO Max
HBO Max is a streaming platform that brings lots of must-see TV series, blockbuster movies, and exclusive HBO Max Originals.
Of course, everybody knows Game of Thrones, right?
YouTube
YouTube is a popular video-sharing website where users can upload, view, comment, and rate videos from different authors / creators.
For free!
YouTube is a great free Netflix alternative, although it's a bit different than the other options on this list.
Netflix vs Disney Plus subscribers
In the Q3 of 2022, Disney+ hit a record-breaking 151,1 million subscribers.
All the consumers combined, including Disney+, Hulu, and ESPN+, amounted to an impressive 235.7 million subscriptions in 2022.
Stunning!
That eclipsed Netflix's subscriber base in the process.
Source: Statista
Netflix vs Amazon Prime subscribers
Amazon Prime Video has been confirmed to have the second-most impressive selection of original content available in 2022.
Beyond its convenient shipping options – free or faster delivery (which made it a world leader in delivery services) their subscribers can leverage their membership for exciting streaming experiences too.
Source: Statista
Netflix vs Hulu subscribers
In the Q1 + Q2 + Q3 of 2022, the Walt Disney Company reported that Hulu had 137,1 million paid subscribers.
What's not cool about it is, unfortunately, Hulu is only available in the US.
Source: Statista
Netflix vs HBO Max subscribers
Warner Bros. Discovery ended 2022's third quarter with almost 95 million total subscribers across its video streaming services HBO, HBO Max, and Discovery+.
Of those, U.S. and Canadian subscribers remained steady but international audiences rose by a notable 2 million from the second quarter of that year.
Source: Statista
How many people subscribed to Netflix because of original content?
Indeed, Netflix makes excellent original content.
But their library has been getting thinner as alternatives pop up.
What's cool, Netflix offers a lot more titles (6,206) than alternatives.
And how much original content is on Netflix?
In the Q4 of 2021, Netflix released 129 original content titles.
Interestingly, 56% of Netflix subscribers said Netflix Original Content is the reason to subscribe.
That's why subscribers keep subscribing and encouraging new people to sign up and start subscribing to watch the Original Content.
Amazing!
Source: Statista
Top 10 most watched on Netflix of all time (subscribers' picks)
Compared to other alternatives, Netflix is absolutely rocking.
If you want to spend some free time watching a really good series / movie, check this out.
Only the best of the best!
To mention, in the following are Netflix's most-watched series / movies, reporting of total hours viewed in the first 1 month of each title's release.
Top 10 Series (by subscribers):
#1 Squid Game, season 1 (1.65 billion hours).
#2 Stranger Things, season 4 (1.35 billion hours).
#3 Dahmer (856.2 million hours).
#4 Money Heist, part 5 792.2 million hours).
#5 Bridgerton, season 2 (656.3 million hours).
#6 Bridgerton, season 1 (625.5 million hours).
#7 Money Heist, part 4 (619 million hours).
#8 Stranger Things, season 3 (582.1 million hours).
#9 Lucifer, season 5 (569.5 million hours).
#10 All of Us Are Dead (560.8 million hours).
Top 10 Movies (by subscribers):
#1 Red Notice (364 million hours).
#2 Don't Look Up (359.8 million hours).
#3 Bird Box (282 million hours).
#4 The Gray Man (253.9 million hours).
#5 The Adam Project (233.2 million hours).
#6 Extraction (231.3 million hours).
#7 Purple Hearts (228.7 million hours).
#8 The Unforgivable (214.7 million hours).
#9 The Irishman 214.6 million hours).
#10 The Kissing Booth 2 (209.3 million hours).
Cheers!
Source: CNET
Conclusion
Finally, that's all for our Netflix subscribers guide and statistics in 2022.
Netflix currently has the highest number of subscribers among all streaming services.
But will Netflix stay the number one competitor in the streaming industry, or will its subscribers switch to other streaming services?
Competition is tough, though.
Let us know what you think in the comments section below.
Till the next time! 👋
Ready to get started?
Learn how your business can thrive with Tridens Monetization for Media & Entertainment.
Schedule a Demo