EV charging station business model and investing in EV charging infrastructure are two hot topics today, but to be honest, EV Charging is not making any significant profit now.
So why is there such a huge interest in investing in the EV charging business?
The answer is simple, because of its business potential!
Is EV Charging Making a Profit?
No, most EV charging stations are not making a profit!
At least not directly.
A statement like this from an EV charging software company may sound like business suicide, but it's true.
However, that is good news for all looking for an investment.
Are you advising me to Invest in a Nonprofitable Business?
Yes, we do, and we'll try to explain it as simply as possible.
Let's start with the most abused sentence in recent times:
"Can you imagine you were one of the first to invest in Bitcoin?".
This sentence is now primarily used in all sorts of scams, but it's true.
It's all about being there before the rest.
Before it's popular and everybody wants to get on board.
Some EV Statistics
Although e-mobility and electric cars are the hot topics of the last few years, the reality is that electric cars represent only 7% or about 17 million units of the current cars on the road worldwide.
According to new electric car sales and statistics, by 2026, electric vehicles will reach 25% of global passenger vehicle sales.
The trend will continue to rise to 54% in 2030.
There are, of course, some countries that stand out.
Like Norway, where 75% of new cars sold are electric.
The total share of electric vehicles in use is 23,1%.
Why is the EV Charging Station Business Model Not Making a Profit?
In every economy, a profit of a business model is determined by demand and supply.
The two factors that influence the profitability EV charging business are the number of electric cars on the road and the user experience.
Smart EV Charging: Unlocking Its Full Potential
When the number of EV cars on the road rises, the demand for charging will also increase.
Still, we must first boost the number of EV charging stations to boost the number of electric vehicles.
People will not buy electric cars until they can't charge them "on every corner" and have a good user experience while doing it.
Today most EV drivers do their charging at:
At home.
Setting up your home charging station is relatively easy and cheap, but more importantly, home charging is convenient.
At free public chargers build by government agencies that promote e-mobility or set up by businesses to attract customers.
In the last time, we can see fewer and fewer free chargers, and probably this option will soon be very rare.
At work as many companies install free EV chargers for their employees, primarily to boost their satisfaction.
At various charging networks.
Home charging is cheap, while other options are mostly free.
So the charging networks that charge "the market price," which enables profit, are mostly the last option for EV drivers.
Although Tesla, ChargePoint, gas station companies, and other EV charging Station companies exist, most commercial charging stations are, for now, just not getting the traffic to make them profitable.
With the increased number of electric cars, the demand will rise.
Free charging stations will slowly disappear, and we will see new opportunities for making the EV charging business profitable.
EV Charging will become profitable, and we just need to be patient!
Three Ways to a Successful EV Charging Stations Business Model
In general, EV charging business station models fall into three groups:
Models that sell charging directly to EV drivers and companies that operate EV Fleets.
Models that are based on building EV Charging stations or networks and running them as Charge Point Operators (EV CPO)
Models that use EV Charging as a tool to boost the core business
EV Charging Business Model 1: Sell Directly to Users
The first EV charging business model focuses directly on selling electricity to EV users.
You can become an Electro mobility service provider (EMSP), develop an appropriate EV Charging business model, acquire customers, and start selling and billing the customers.
Still, it mostly comes down to securing a good location – something we will discuss later.
EV Charging Business Model 2: Build Charging Networks
The second EV charging business model is to become a Charge Point operator (EV CPO) and invest in building EV charging stations and networks.
Then you can partner with Electro mobility service providers and strategically partner with the third group – the "indirect revenue seekers"
If you are still confusing the terms EMSP and EV CPO, please read our blog to discover the differences between EV CPO and EMSP.
EV Charging Business Model 3: Use EV Charging to Earn Additional Revenue
The third EV charging business model is to use EV Charging as a "lure" to increase the revenue of your primary business.
We call this potentially largest group the indirect revenue seekers, including supermarkets, hotels, restaurants, and many more.
Use Cases of EV Charging Station Business Models
The "Indirect Revenue Seekers"
The indirect revenue seekers are businesses that see EV charging as an opportunity to attract more customers or enhance customer experience by adding EV charging to their services.
Free meals or drinks in a Casino are there to keep you playing.
Free popcorn in a cinema will make you buy more drinks, and reasonable offers on tools in a supermarket will make you also buy groceries if you are already there.
It's the same with EV charging.
If you own an EV, you will select a hotel with a charging station over one that doesn't have one.
A restaurant that lets you charge your car while you eat will get more customers than one without.
If a shopping mall offers EV charging, they know where you will spend your time while charging your car.
Sure, you'll be shopping inside.
All this is nothing new!
Even now, gasoline it's a low-margin business.
That is why the gasoline stations try to sell you snacks, coffee, cigarettes, magazines, and everything else possible.
But there is a big difference.
When you enter a gas station, they have less than a minute to sell you something.
With EV charging, they have from 15 minutes (supercharge) to 2 hours to sell you what they want.
EV Charging Doesn't Need to Be Free!
The best part of all this is that the charging doesn't need to be free!
The days of free charging are coming to an end.
Select the right Smart EV charging Management Software with advanced EV Billing functions.
Then you can create great cross-sell packages that include your services and EV charging.
You can even introduce a charging station reservation with pre-ordered food delivered to your car when you arrive to speed up the process.
So you make money on your product, some extra on charging, and as a bonus, get the customers that use your app to stay in touch with them and send them personalized offers, promotions, and advanced discounts.
It's monetization and marketing – all in one.
We are excited about new EV Charging business model ideas!
For instance, an EV charge drive-in cinema where you can charge your car, eat popcorn and watch a movie.
If you know any, let us know!
Real Estate EV Charging Business model
The most expensive electricity is usually from 3 pm to 9 pm, and the cheapest is at night at 1/3rd of the price or even less, depending on where you live.
That is why EV charging will also play an essential role in real estate development.
With the number of electric cars rising, people will seek convenience and want to charge their vehicles at home or the workplace.
Many drivers are not homeowners and can't charge at home or work.
So, of course, they are not interested in buying EVs, but that doesn't mean they don't want them.
It's just the idea of charging at public charging stations that is putting them off.
For real estate, this means that they will have to equip apartment blocks with charging stations in their parking lots to attract a specific customer target group.
It will directly increase the value of the real estate and become a must-have feature in the future.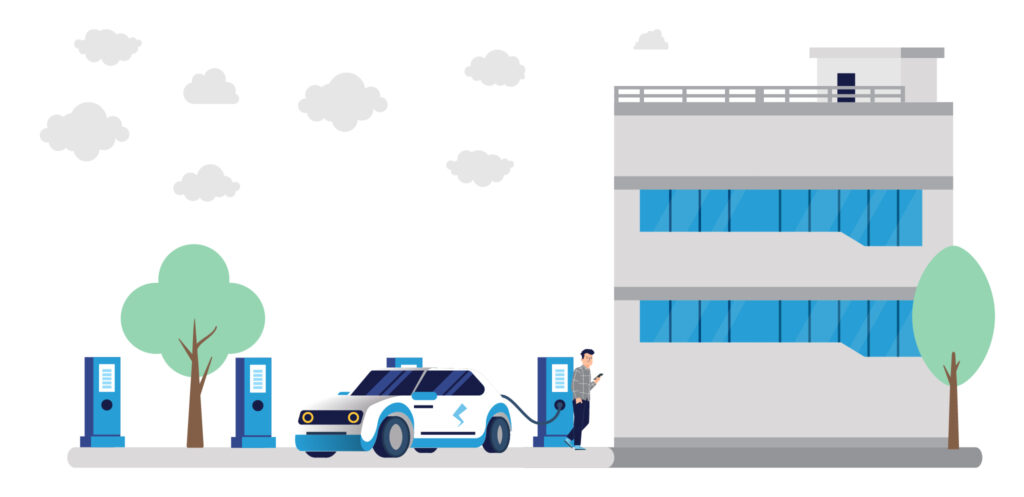 New Real Estate Law Regarding EV Chargers in England
New homes and buildings in England will be required by law to install electric vehicle charging points.
Although not everything is 100% confirmed, it looks like all new homes, non-residential buildings, and those undergoing large-scale renovations will be required to install an electric vehicle charge station for every ten parking spaces.
In addition, all new charging stations will need to be smart charging stations that can automatically charge vehicles during off-peak periods.
The government said the move would see up to 145,000 charging points installed across the country each year in the run-up to 2030 when the sale of new petrol and diesel cars will end in the UK.
With Germany, France, Australia, and many other countries demanding or advising new buildings to have EV charging pre-installation, the UK move is the most radical so far.
The "Land Grabbing" EV Charging Business Model
"Land grabbing" is a straightforward EV Charging business model if you have the capital needed.
Like with real estate, grab as much possible land in prime locations.
Grab it while it's still cheap, and build charging stations.
Think of Las Vegas when it was still a desert!
Set up your charging stations in the best locations for long-distance travelers or at the best tourist attractions.
Select the best residential areas, partner with big stores, and snatch other prime locations.
Look for businesses with "old" thinking and get arraignments with hotels and restaurants that don't see this potential jet.
Install charging stations and lease them back.
The more traffic comes through, the more people will charge there.
As the number of EVs grows, EV Charging will be more profitable.
You can enter the EV Charging business as a primary business or investment.
Investors are counting on that eventually, the different Charge Point Operators (EV CPO) and Electro mobility service providers (EMSP) will start to merge.
In the end, there will probably be just a few "big players."
So just get the best locations and wait for "big boys" to come to your town and buy you out.
Remember, because of EV charging infrastructure limitations, there can only be a limited number of charging stations in one area.
The EV Charging as a Service Business Model
Many real estate investors or companies will need EV charging stations.
Some of them won't be ready to take the project upon themself because of financial or other limitations.
The solution is to "rent" the charging stations and use them for employee or electric vehicle fleet charging.
For more information on this EV charging business model, please read our EV Charging as a Service blog.
Who Should Invest in EV Charging Business?
If you just have too much cash and are looking for an investment that will quickly make you a profit, don't invest in EV charging.
Sure, you can make some money on subsidies and charging, but charging stations also require maintenance, an EV Charging station management system, and marketing.
This is where most startups fail – they run out of money before they make a profit and leave behind poorly maintained charging stations that don't work correctly.
A few bad reviews on the internet, and the marketing is also down.
Like with everything else "hot" on the market, the speculators are piling into the industry, just waiting for it to explode.
But remember the before mentioned Bitcoin?
It needed almost ten years to explode!
If you are in it for the long run, you will make a profit.
Especially invest in EV charging if you are the "indirect revenue seeker" or want to partner with them.
Everybody is sure that EV charging will be profitable.
It's just when the tipping point will be that nobody can predict.
Selecting the Right All-in-One EV Charging Solution
No matter what business model you choose, choose the right partner!
With many suitable hardware suppliers, it all comes down to a good EV charging management platform that can support every existing or new business model possible.
Most importantly, it must support complex pricing and billing and various subscription models.
One of the options is Tridens EV Charge, a white-label EV charging cloud-based platform that is well-proven and operates charging networks worldwide.
Ready to get started?
Learn how your business can thrive with Tridens EV Charge.
Schedule a Demo