EV Charging Load balancing is an important feature of smart EV charging that prevents destabilizing or overloading the power grid.
It does it by managing the power distribution to EV charging stations when more vehicles are simultaneously charging.
EV charging load balancing function is a must-have for private or public EV charging stations and EV charging networks.
Generally, it should be used anywhere where more power consumers can work simultaneously.
EV Charging can present a significant danger to the power grid if the charging system's power demand exceeds the grid's power supply.
When using dynamic load balancing, the charging system will respond and change the charging power on each charging point to prevent the grid from overloading.
Let's look at how it works!
Static vs. Dynamic EV Charging Load Balancing
There are two types of load balancing, static and dynamic.
Static load balancing adjusts available power between EV chargers based on fixed allocated supply capacity within the charging cluster.
Static load balancing distributes traffic without considering the system's present condition.
Dynamic load balancing, on the other side, uses intelligent solutions to adapt charging according to real-time conditions.
Dynamic EV Charging Load Balancing
First, let's mention that Dynamic EV Charging load balancing is an important feature of dynamic EV Charging load management and that both together form an essential part of smart charging technology.
Dynamic load balancing algorithms consider the present state of the system and each consumer and distribute traffic accordingly.
The charging stations communicate with the EV charging management software in real-time and report the demand and preferences.
Even when many chargers and other power consumers work simultaneously, there is no risk of overloading.
Dynamic load balancing is an intelligent approach to EV charging and allows numerous EV charging points to operate simultaneously.
It provides the highest potential charging power without compromising the electrical grid and power supply.
The load balancing system distributes available onsite energy to the electric vehicle charging network in real time.
As a result, the charging power can be momentarily limited to satisfy the energy constraints imposed by demand from other consumers.
In contrast, when energy usage in the same electrical grid is low, the power allocated may be higher.
Furthermore, Smart EV Charging software will allow prioritizing between the chargers.
Home Chargers and EV Charging Load Balancing
When homeowners install EV Chargers, dynamic load balancing is a must-have function.
In houses, the power demand can easily reach the Maximum Import Capacity (MIC) if many appliances operate simultaneously with EV Charging.
Usually, the electric car charger is the only device with smart energy management, so it's up to it to balance consumption in the household.
To prevent overloading the grid, dynamic load balancing will balance all household appliances and other consumers (heating, air-conditioning,…).
So if the power demand from other devices is too high, the charging is temporarily limited or stopped.
Public, Workplace, and Residential Chargers
The same goes for all that install chargers to provide EV Charging for employees, EV Fleets, tenants of multiapartment buildings, or the general public.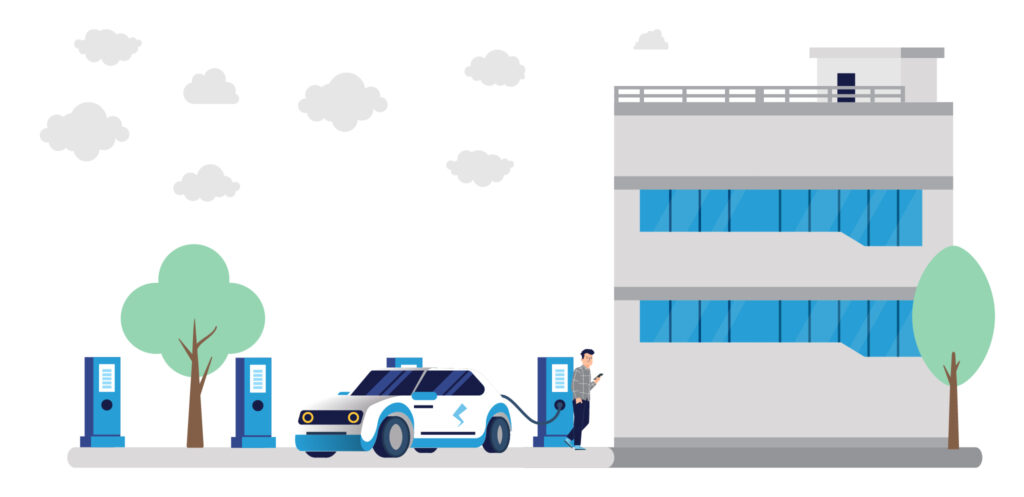 If they don't want EV charging to interfere with other power consumption, they must install smart EV Chargers with dynamic load balancing.
We hear this scenario all of the time:
"If all EV drivers decide to charge their vehicles simultaneously, the grid will collapse!"
Sure, it can happen, but only if we don't use dynamic load balancing.
Dynamic Load Balancing and the Power Grid
It's true EV Charging has a big influence on the power grids, and it will become only bigger.
It's one of the biggest challenges the EV charging infrastructure faces today.
Without dynamic load balancing, the power grids will need a lot of updates and investments soon to accommodate the rising number of EVs and EV charging stations.
However, if used, dynamic load balancing will distribute available power between different smart charging stations.
With real-time monitoring of the energy available, it will limit or temporarily shut chargers if the power demand is too high.
Thus, the grid won't collapse or need significant upgrades.
EV Charging Load Sharing Methods
EV charging load sharing is a term that describes how multiple EV chargers get power.
There are two general load-sharing principles and a third that will become increasingly popular and depend on providers' business models.

Equal Distribution Load Sharing
The equal distribution load sharing principle distributes the available power equally between all charging stations in use at the time.
If five chargers are in use, they will all receive 20% of the total available power.
When one vehicle leaves, the power is distributed between the four remaining in use, meaning each station will get 25% of the total energy.
The First In, First Charged Load Sharing Method
The First in, First charged principle follows the order in which the vehicles started charging.
It means that the first connected vehicle will receive the maximum power for the full charging duration.
The second vehicle will receive the remaining energy; if there is still any left, it will go to the third connected vehicle, and so on.
The Priority Load-Sharing Method
With the development of new business models and offerings, some providers can offer their customers VIP plans or subscriptions, enabling them to bypass the assigned load-sharing plan and receive priority treatment.
In EV fleet management, the fleet operators use the priority load-sharing principle to assign priority charging to some essential vehicles in their EV fleet.
EV Charging load balancing is often falsely referred to as load management, but in reality, it's just one of the load management functions.